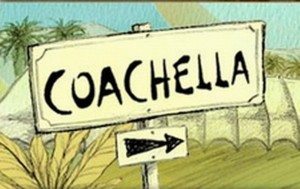 This is something I've never tried before, but it should be an interesting experiment. As everyone knows, a festival like Coachella can be a bit chaotic as you struggle to keep track of your friends while trying to see all the bands you have circled on the schedule. We did a pretty good job, and clocked in at least one or two songs from about 30 bands. Rather than bore you with a rundown of a couple of sentences about all those bands, below you'll find my list of Coachella 2011 Superlatives followed by at least one video from every band that we made it to.
Friday's Top Three:
#3 – Ms. Lauren Hill – Despite some sound issues at the beginning of her set, Lauren Hill and her 16+ piece band played a killer set that featured a some old Fugees material, a Bob Marley Cover, and several songs from her groundbreaking record The Miseducation of Lauren Hill.
#2 – The Black Keys – After seeing them at Coachella 2009, I used to think these guys were more of a club band than a festival band, but they have obviously made the transition over the last couple of years as their raucous blues, based Rock-n-Roll got the masses moving as the desert night set in on Friday.  While they had some help on a couple of tracks from a bass player and keyboard player, it was nothing short of magical when Dan and Patrick took over the Coachella night with nothing but a drum set, a guitar, and one voice.
#1 – The Chemical Brothers – Though they started about 45 minutes late due to some technical difficulties with their lighting rig, The Chemical Brothers delivered one of the strongest sets of the weekend.  Their sound was crystal clear and as loud as ever as they blew through a frenetic hour long set packed with hits like "Galvanize," "Do It Again," "Swoon" and "Believe," It was a show that anyone in attendance isn't likely to forget anytime soon.
Saturday's Top Three:
#3 – Elbow – This British group has flown mostly under the radar for 20+ years, but has a sound that could be compared to a cross between The National and Coldplay.  They packed the Gobi tent for their sunset set  and won over more than a few new fans as frontman Guy Garvey wooed the adoring crowd with songs that were pulled from the bands 5 albums.
#2 – Arcade Fire – Simply put, they delivered exactly was expected from them;  an incredibly strong set of music that relied heavily on the bands raw energy and captivating stage presence.  As they ended their set with the anthemic "Wake Up," thousands of LED enabled balls cascaded from the top of the stage and into the densely packed crowd.  As the song moved on it became apparent that someone was remotely controlling the colors of the balls as they changed colors simultaneously as they stretched out across a sea of outstretched hands.  It was beautiful to witness.
#1 – Animal Collective – This experimental group delivered one of the most surprising sets of the weekend.  While I do think it was probably over many casual music fans heads, they made no apologies for pushing the envelope well beyond the typical festival limit.  In fact at one point they even shouted from the stage "we came to bring the weird!"  They certainly did exactly what they set out to it.  Throughout the set, their beautiful soundscapes of melodically glitchy electronica were accompanied by one of the best lightshows of the weekend as three cubes hung above the band and dazzled the audience with intricate designs and patterns that fit hand in hand with the music.
Sunday's Top Three:
#3 – Duran Duran – It was a throwback to the eighties and it worked.  It worked well.  While it was largely the 30 somethings that were truly loving the classic new wave songs that Simon LeBon and company were showering down on them, there were plenty of kids singing along as well.  "Rio," "Girls on Film" and "Hungry Like a Wolf" were the true crowd pleasers, but during the encore the dedicated a version of the James Bond Theme "A View To A Kill" to the late John Berry who wrote the song with the band.
#2 – Trentemoller – A new one to me, this Danish producer and his band absolutely blew me away.  Their ambient electronica managed to at once sooth my festival battered mind and get my tired feet moving.  It was a lot to take in, but that often goes to show how much depth there is to the music.  There will be many more explorations of the music of this band in my future, and there should be in yours as well.
#1 – Nas & Damian Marley – The perfect late afternoon set, Nas and Damian Marley were backed up by Marley's band and ran through several cuts from their recent release Distant Relatives as well as the hit "Welcome to Jamrock" from Marley's 2005 album of the same name.  Late in the set, the group dropped an electrifying version of "Could You Be Loved" on the ecstatic crowd that proved that the Rasta vibes were alive and well on the Polo Grounds on Sunday.
Act I Was Most Dissapointed to Miss Because They Were Too Early: !!!
Act That I Didn't Know but Had the Hardest Time Leaving: Fedde Le Grand
Act That Looked Like They Had The Best Crowd Energy From Afar: Yelle
Act I Would Have Loved To See More Of: Sleigh Bells
Act With The Most Disappointing Performance: Cee Lo Green
Act I'm Kicking Myself Because I Missed: Ratatat
Act That Had the Most Creative Stage Set: Shpongle
Act I Typically Love, But I Just Couldn't Get Into: The National
Now, Take a Walk With Me As I Lead You On My Journey Through Coachella 2011!
FRIDAY
Warpaint – Undertow

Cee Lo Green – Crazy, Fuck You and More

Tame Impala – Full Set

Ms. Lauren Hill – Ex-Factor

Cold War Kids – Bulldozer

Cut Copy – Saturdays

Interpol – Slow Hands

The Black Keys – I Got Mine

Sasha

Kings of Leon – Sex On Fire

Chemical Brothers – Don't Think, Out of Control, It Doesn't Matter, Setting Sun

SATURDAY
Cage The Elephant – Shake Me Down

Broken Social Scene – Texico Bitches

Elbow – One Day Like This

Shpongle

Fedde Le Grand – "Amplifier" vs "Walking On A Dream"

Mumford & Sons – Lion Little Man

Animal Collective – 3 or 4 Songs From Mid-Set

Raphael Saadiq – Full Set

Arcade Fire – Wake Up

SUNDAY
Nas & Damian Marley – Could You Be Loved

Best Coast – Each and Every Day

Death From Above 1979 – Go Home Get Down & You're Lovely

Trentemoller – Take Me Into Your Skin

The National – Terrible Love

Duran Duran – Girls on Film

The Strokes – I Can't Win

Chromeo – Hot Mess

Kanye West – H.A.M. (Intro) / Dark Fantasy


Music has always been a part of my life. It probably all started listening to old Grateful Dead, Peter Paul & Mary, and Simon & Garfunkel records that my parents had, but it wasn't long before they were taking me to concerts like Starship, Crosby, Stills & Nash, and Huey Lewis & The News. I got the bug to write about music after reviewing an Eric Clapton concert for a creative writing project in high school but didn't really take it up seriously until 2002. Since then I have published countless articles in The Marquee Magazine and done some work for Jambase.com, SPIN Magazine, and various other outlets. I started Listen Up Denver! as a way to share the music information that is constantly spilling out of my head with people who care. Please enjoy!