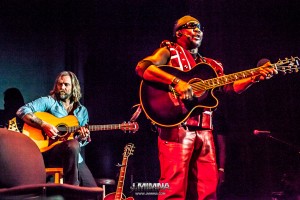 Photos by Jim Mimna
The Scene: Stepping into Swallow Hill's Daniels Hall just as Anders Osborne took the stage, I quickly and quietly grabbed a seat in the back of the room. Holding around 250 people, the space is intimate, pitch black, and sounds amazing. I spend a lot of time in larger venues, and it was a welcome change to be sitting with a quiet and attentive crowd in such a warm and welcoming space.
There isn't a full bar, and the beer and wine selection is minimal, but you don't come to Swallow Hill to throw down, you come to sit down. The mostly over 40 crowd showed reserved excitement throughout the night, and there were only four people standing and dancing in the back of the room.  To be fair, there wasn't really much more room for anyone else to be cutting a rug, and it was an all acoustic show with low energy. I stuck to chair dancing and foot tapping while Anders Osborne ran through an amazing set before Toots and The Maytals presented their 50th anniversary, and first ever acoustic tour, to a crowd that truly appreciated every note.
Anders Osborne: This was the third time I have seen Osborne play in as many months, and he has not ceased to amaze me, nor failed to pull me in deeper every time. I first heard him at Telluride Blues and Brews Festival this year [Editor's Note: Read our review here], and I walked away knowing his music was going to stay with me. Since then I have listened to at least two of his songs, usually the same two, everyday. I connect and relate to the honesty, introspection, and soulfulness in his writing, playing, stage presence, demeanor, and perspective. I relate to his Scandinavian roots, his shattered past, and his bright future.
The best way to explain how much his music has hit me is that it actually felt like love at first note…like I had been waiting to meet this music all my life. Now, to some, that may sound intense but I have felt that way about other artists and bands as well, and still do. I love, and have loved, a lot of music and my harem is filled with songs I have fallen for over the years. I guess I am a hopeless romantic and the "I've Got Your Heart/I've Got A Woman" medley he played late night at Blues and Brews has inspired me to search for a woman that I would want to sing these songs to. Osborne has not only given me songs to fall in love with, but a couple I hope to fall in love to.
Opening up with "Acapulco," Osborne showed his softer side, the singer-songwriter, the guy with his glasses down at the end of his nose. Not only does Osborne write his own music, he writes for other artists and songwriting houses as well because he is a story-teller. On this night his stories were told from a chair with an acoustic guitar and they stood tall on their own without a backing band.
Osborne hails from New Orleans via Sweden, and he is a hurricane force on the electric guitar. Those electric abilities translated well to the acoustic, especially on "Black Tar." He broke out the slide and, slapping his guitar, created a powerful rhythmic chugging like a freight train coming down the tracks. When he plays, he is fully immersed-grunting, humming, showing emotion, and expressiveness on his face and on the fretboard.
Osborne closed his set out with a couple of songs from a forth-coming EP and the Bo Diddley beat of "Jealous Love" was infectious as it gave Osborne one more chance to shred the strings. The crowd awkwardly tried to clap along, but nicely sang along to the chorus.
Toots Hibbert may be a living legend, but Osborne may well have been the main draw for the night. I know he was the one I came to see, and an audience member shared that same thought during the set. When Osborne was talking about what an honor it was to be sharing the stage with one of his idols, someone yelled out, "Where here for you Anders!," and although I didn't think it was appropriate to shout that out…I agreed.
Toots and The Maytals: Toots Hibbert is a living legend, there is no way around it and he doesn't mind reminding you of that fact, repeatedly, throughout his performance. I have loved the music of Toots and The Maytals since a beautiful girl in brown corduroys and a loose paisley shirt played "54-46"for me while sitting in front of a glowing fire place, blowing herb smoke into the flames so it would rise up the chimney. Since then I have seen him perform a few times, and while it's great to see this reggae legend do his thing, unfortunately I think Hibbert's age is really starting to show.  Although he still has the fire in him, it's hard to ignore how much he has slowed down.
An intimate acoustic performance by any musician of Hibbert's caliber is a special treat, and die-hard fans in the room sure made that fact be known. Toots and the Maytals opened the set with a chill "Reggae Got Soul," and since he wasn't moving around that much, his vocals were spot on. Running through the standards, like "Time Tough" and "Bam Bam," Hibbertt gave us scattered thoughts on the stories behind the songs. I just wasn't feeling it. It felt like "Toots Lite." The playing was reserved and lack-luster except for the contributions by Osborne, who was sitting on a stool in the back corner of the stage.
The night just seemed to drag on awkwardly, as they played decades old material with no new spin on anything, and little to no energy. I appreciate the fact that Hibbert is still doing his thing, and I will always love his music, but for me, seeing him live is of no more interest. All that said, the crowd was way into it. The people who came for Osborne got a treat seeing a legend doing his first ever acoustic tour, and those who came to see Toots got introduced to man who is on his way to becoming a legend himself.
Energy: B-
Musicianship: B+
Sound: A
Stage Presence: B
Set/Light Show: C
Overall: B
Brian Turk grew up in the shadow of the Catskill Mountains, near Woodstock, NY. He comes from a family of music lovers, audiopliles, Dead Heads and avid concert goers.The musical magic that can only be created in the Catsklills, both past and present, is what Brian cosiders the epicenter of his music addiction. The music of The Band, and most recently The Levon Helm Band, is the soundtrack of home for him. Brian's mother took him to his first concert at 5years old...it was Johnny Cash and Roseanne Cash at Jones Beach Amphitheatre. For Brian, music is a family affair. He feels the same way about live music...we all convene to celebrate together. Brian's writing life started when he wrote his favorite author, southern fiction writer Clyde Edgerton, a fan letter at age 13. When most kids were idolizing baseball players and television, he was worshipping writers and musicians. The two became friends and Clyde shared his craft with Brian. The next year Brian attended Duke University's Young Writers Camp. This is the extent, of what Brian considers, his "formal" training in writing. From then on his goal was to capture snapshots of life through words. Brian has been involved with live music in various facets over the years, and combined with his enthusiasm and love for Denver's music scene, he creates a vivid description of what he sees and hears. If you see him out at a show, dancing with a notebook in hand, say hello.