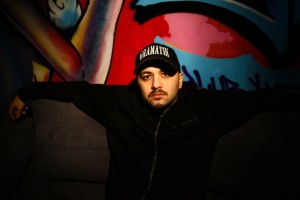 Gramatik [Denis Jasarevic], the Slovenian born producer from Pretty Lights Music, is headlining his first show at The Fillmore this Saturday night.  With opening acts Talib Kweli and Mux Mool, it's sure to be a night that lives up to Gramatik's personal ability to move from one musical genre to the next.  His new light design, inspired by infamous physicist Nikola Tesla, is sure to be a highlight of this blowout.  He was kind enough to take a few minutes away from his busy schedule on tour with Bassnectar to talk to Listen Up Denver! about the tour, his musical influences, and about his philosophy of giving away all of his music for free to fans.
Listen Up Denver!: Where did I find you right now, what are you up to?
Gramatik: In Amherst, at UMASS, we're putting on a big show tonight, we were in Portland, Maine last night.
LUD!: How has the tour with Bassnectar been?  How do you like playing for crowds of that size?
Gramatik: It's awesome, the crowds go off every night.  His fans are religious, they show up at 5pm and stay for the entire show.  And he [Lorin Ashton] is one of the coolest people in music that I've worked with…well, him and Skrillex. They are the two biggest names right now and they're both real down to earth extremely smart guys.
LUD!: In what way is it different to open for another artist compared to headlining your own show?
Gramatik: It's obviously different.  Your own show will be something all your own.  People are there primarily there to see you, and it feels different.  Opening for Bassnectar feels like playing your own show because the people that show up are there from the first minute, we always have a packed house from the moment the doors open.
There are a lot of people that show up and have never heard of you, and they'll write you the next day and tell you that they've become a lifelong fan, which is really cool.
LUD!: Considering your music has such a wide variety, do you tend to play songs that are in line with that of the headliner; do you feel any type of restriction?
Gramatik: Not really, when Bassnectar called and asked me to come on the tour, he told me straight up he wanted me there for who I am, and not to adapt my shit.  I really appreciate that.  I don't want to have to conform to the style of a headliner.
LUD!: Who are some current influences for you?  What are you listening to in your free time?
Gramatik: I'm so stoked for Saturday; being able to play with 2 artists that I really admire, especially Talib Kweli, is a dream come true.  I grew up listening to BlackStar.  He and Mos Def are my heroes and now he's opening up for me…it blows my mind.  And Mux Mool is one of the best Hip-Hop producers in the game right now, and has such a unique style.
I listen to a lot of Lettuce, I'm a huge funk fan and they're my favorite band in the world right now.  They're a superband from New York, and Adam Deitch of Break Science is their drummer.  There are 8 dudes in the band, the bassist is the session player for Dr. Dre and Kanye, the rhythm guitarist works with Lady GaGa, they are all virtuoso instrumentalists.
LUD!: How do you go about constructing an album?  What equipment are you using to create your sound?
Gramatik: I'm on Ableton Live, so that and Native Instruments Komplete is pretty much it right now, I'm still using about 90% VST.  As far as the process, it's super dynamic.  There's no great way to describe it.  It's not like I wake up everyday and sit down and say: "alright, now I'm going to make music from 9 to 5."  Whatever happens that day can end up turning into a track, or not..
You're basically a slave to your own creative impulses.  You just stick around.  You know that the impulses can't be controlled or predicted.  You just stick around and then drop everything you're doing so you can capture them, which automatically makes you a socially awkward person.
LUD!: Tell me about your new Tesla Coil light set up that is debuting this Saturday at the Fillmore in Denver.
Gramatik: Me and Kyle, my lighting designer, have been talking about this since last fall when we were on tour; about creating an abstract representation within the lighting design of the Tesla Coils.  We are finally at the point now that we can actually realize it and the designers did a great job putting all of the content together.  We will all be biting our nails, because this will be our first test run.  They are building it right now in a warehouse in Denver, and Saturday will be the first time I will see it in real life.
LUD!: Why did you choose Denver as the city for this big premier?
Gramatik: Well this is my biggest headlining show, I've never headlined a venue of that capacity, so it makes sense.  And it's Denver, the city in The States where the EDM scene is really popping up right now.
LUD!: I just listened to your new collab with up and coming Detroit producer Griz, under the name GrizMatik.  What does the musical collaboration process look like for you?
Gramatik: I'm a very particular person when it comes to that.  I don't work with that many people because of the way that I tend to work.  If I'm not in tune with another artist completely, then I can't work with them.  He opened for me on the Digital Freedom tour and we shared a chemistry and vision.  It flowed so nicely that it was meant to be.  I don't find that a lot when I'm working with other artists.
LUD!: Your album #digitalfreedom has a variety of genre labels attached to the songs, which is something I don't know I've seen an artist do.  It's a testament to your ability that you can move from one genre to the next so seamlessly.  What do you think about all of the subgenre labels within the EDM scene?
Gramatik: I've never been a huge fan of labeling.  I mean, I guess you need to have a label so you can know where to put it.  In terms of localizing yourself to one genre, that's always seemed stupid.  I'm very much an omnitempo guy.  I like to produce in all ranges and genres that I like listening to, and what influenced me when I was growing up.
LUD!: Will you be flying solo on the stage this Saturday night, or do you have plans to bring some other musicians on stage to join you?
Gramatik: My homie Eric is with me on this tour.  He just started with me recently, our first show was Electric Forest this summer.  He's one of the most soulful and funky guitarists that I've had the pleasure to work with.  It makes it way more fun for me.  When you decide you're not going to be a DJ but your going to play your own music only then it tends to get boring because it's yours.   You're already sick of it by the time you're done producing it, and now you have to play it every night.
That's why I've been bringing a guitarist on stage with me, I want to make things interesting for me too.  If I'm not entertained on stage, then the crowd will sense that.  They need to feel that I'm entertained as well and let that energy project on to them.
LUD!: Could you tell me a little about your philosophy "freeing music by making music free"?
Gramatik: It's very important for us, in the times we are living, to have music be primarily free.  The fact of the matter is that, no matter what you say or do, people will pirate your music.  They will get on a torrent site and download that shit for free.  This whole war against free file sharing is like the church's age-old war on masturbation; it's a war you cannot win.
LUD!: Did you already have this thought in your mind before you met Derek and joined the Pretty Lights Music label, who is well known for giving all their music away for free.
Gramatik: I totally had the thought in mind before we met.  We were on tour together and were inspired by Radiohead when they said "fuck you" to their label and decided to put their album on their site and let the people decide how much they wanted to pay for it.  It revolutionized everything and inspired me and Derek to do the same thing.
LUD!: As a listener, I can say that I appreciate the idea.  It's what got me into all of the PLM artists.
Gramatik: Exactly, you can be at your friends house and if one of them asks if you've heard the new Gramatik album you can go inside and listen to it right now, and not have to pay anything for it.  All you need is a laptop and a hotspot.  If you don't have the money to buy all the albums that came out this year, then you need to be criminal and download a torrent.  Why put your fans in that position, and make them a criminal?  You know they're going to do it.  Give it out for free, and let the fan feel good about it, and then they will donate because of it.  It's rational, what we call logic and rationality.
LUD!: One final question for you as I know you have an affinity for a little green plant that we here in Colorado just legalized.  Any future plans to move to CO to take advantage of our new law?
Gramatik: It's become really tempting.  It already was tempting even before, but now that it's legal we just need to make that happen in New York as soon as possible.  To be honest I never expected any state in the US would legalize marijuana in the 21st century, and it's awesome.  We'll definitely be doing a moment of appreciation between my sets about the new legalization.