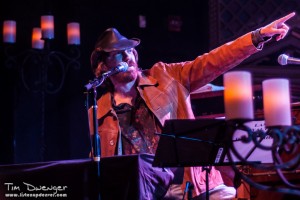 Photo by Tim Dwenger
Why You Should Go: Back in 2005, Denver's number one jamband, Polytoxic, wanted to put on a show that could showcase all the great local musicians they had been playing with for the past few years.  They decided to re-enact The Band's "The Last Waltz," a concert film by Martin Scorsese from 1978 of The Band's last performance that included all of that era's greatest musicians – Eric Clapton, Dr John, Neil Young, Joni Mitchell, etc.  The show was held at Dulcinea's in Denver's Capitol Hill area on May 25, 2005, and Polytoxic planned on it being a fun little show that would garner a little bit of interest.  It sold out in minutes, surprising the band and fans alike, and became the biggest show they had ever thrown.  So big, in fact, they decided to do it again in 2005, this time on the night before Thanksgiving at Cervantes' Masterpiece Ballroom. Polytoxic's "The Last Waltz – Revisited" immediately went from a "fun little" idea at a small venue, to one of the biggest events of the year.  It has become an annual tradition, playing to sold-out crowds. This year marks the 8th anniversary of their "Last Waltz Revisited," and it boasts over 40 guest musicians from across Colorado, a full horn section, and over 30 songs from The Band's extensive catalog while focusing primarily on songs played at The Last Waltz.  The concert has become a tradition for many of those involved in the show, as well as for many of the people that come out and see the show year after year.
Venue: The Ogden Theatre, 935 E. Colfax Ave Denver, CO 80218 – 303-832-1874
Doors: Doors at 8:00 P.M. Show starts at 9:00 P.M.
*Price: $22.75 Adv – $25.00 DoS
Click Here To Purchase Tickets
*All prices are gathered from other sources and we are not responsible for mistakes or inconsistencies. They are intended only as guidelines. Please, always call the venue if you desire the most accurate information possible.