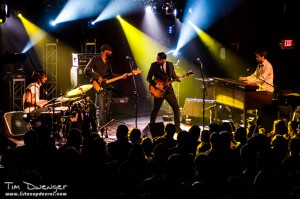 Photos by Tim Dwenger
The Scene: When The New Mastersounds roll into town, the Funk fans come out of the woodwork and last weekend at Cervantes' was no different when the British band stopped in Denver and played both sides of the Welton street club.  On Friday night The Ballroom was full, but not packed, but on Saturday night The Other Side was as crammed as I've ever seen it.  It was like being in a washing machine during the Spin Cycle as everyone jostled together and spun each other around all night long as the energy seemed to keep climbing.  At one point I saw a couple of girls on their boyfriends shoulders with their hands in the air, and it wasn't long after that drummer Simon Allen complimented us all on our dancing when he said "you guys are dancing great!  Usually with the Yankee crowds it's the bob and sway, but you guys are locked into the groove and going hard!"  It was mayhem, pure, blissful mayhem.
The Openers: Good Enough For Good Times & Sam Holt Band.  Friday's show kicked off with some tight Funk from Good Enough For Good Times, a side-project featuring Jeff Raines and Robert Mecurio of Galactic, and boy did they bring it.  In fact, with the same line-up as The New Mastersounds, I heard a few folks mistaking them for the headliner.  As they haven't traveled out of New Orleans much, these guys weren't on many people's radar, but my guess is the tight groove they pumped out on Friday has changed that.  Be on the look-out for Good Enough For Good Times in the coming year!
Sam Holt Band opened up Saturday night with a set of Southern influenced rock that draws inspiration from his one-time boss, the late Mikey Houser of Widespread Panic.  Holt and his band had the rapidly filling room dancing as they jammed on originals like "Fix It Up Man" and "No Surrender" before teasing out a lengthy "Orange Blossom Special" late in their set.
The New Mastersounds: Over four sets of music, these boys were on fire, pure and simple.  Eddie Roberts machine gun guitar licks danced on top of the rock solid rhythm section of Pete Shand and Simon Allen as Joe Tatton filled whatever sonic spaces that were left with organ swells and piano solos.  I've been a fan for years, and The New Mastersounds never disappoint on stage whether they are locked together on an instrumental number or shouting along in unison on one of their new lyrical tracks.  While the word "shouting" usually has a negative connotation when it comes to music, I don't think it does in this case.  On tracks like "Take What You Need" and "Make Up Your Mind," both of which showed up early in the show on Friday, their four voices blend to form one as they punctuate the driving rhythms with simple refrains.  We aren't talking about poetic story songs here, but the punchy lyrics fit the songs perfectly and are a welcomed addition to the band's already vast repertoire of talents.
With a new album, Out On The Faultline, just recently released, it was no surprise that the weekend featured a slew of new tunes woven in with the classics that we have all come to love.  From instrumentals like "Summercamp" and "Mission Creep," to vocal numbers like "Each To Their Own" and the tracks mentioned above, over the two nights the band proved that these new songs showcase their talents exquisitely, and stand-up beautifully alongside favorites like "3 On The B," "Land Of Nod," and "San Frantico."  From the frenetic heights of one of Roberts' solos, to the dark and dirty funk breakdowns that were highlighted by Shand's masterful Bass playing, the crowd was awed by the musical talent they had come to see.
With one night under their belts, on Saturday the group seemed a little more relaxed as Roberts joked about how Tatton had just had the worst week of his life with "trains derailing and passports getting stolen" before driving home the point that he had done everything he could do to make it to Colorado and play (apparently just shortly before the show started on Friday night).  He may not have the most engaging stage presence but, lurking just out of the spotlight on the right hand side of the stage, Tatton proved his worth every second of the show and we all knew that a New Mastersounds show just wouldn't be the same without his fingers on the keys for tracks like "Freckles" and "This Ain't Work."
With both shows raging well past 2am it is clear The New Mastersounds have figured out how to capture lightning in a bottle and release it, on demand, in the form of blistering Deep Funk that fuels intense, sweaty, dance parties.  They are one of the premiere touring Funk bands on the scene today and seeing them is a special treat each and every time they come through town.
Energy: A
Musicianship: A
Sound: A
Stage Presence: A-
Set/Light Show: A-
Overall: A
Music has always been a part of my life. It probably all started listening to old Grateful Dead, Peter Paul & Mary, and Simon & Garfunkel records that my parents had, but it wasn't long before they were taking me to concerts like Starship, Crosby, Stills & Nash, and Huey Lewis & The News. I got the bug to write about music after reviewing an Eric Clapton concert for a creative writing project in high school but didn't really take it up seriously until 2002. Since then I have published countless articles in The Marquee Magazine and done some work for Jambase.com, SPIN Magazine, and various other outlets. I started Listen Up Denver! as a way to share the music information that is constantly spilling out of my head with people who care. Please enjoy!