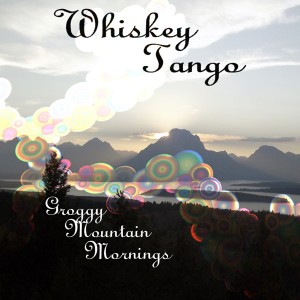 For the past three years, the Denver based quintet  Whiskey Tango has been motivating Colorado crowds to move their feet with their high energy shows and high octane attitude.This Bluegrass band has grass roots, and they recently emerged from their basement studio with their debut album Groggy Mountain Mornings. Capturing the rawness of the band, as well as their tenacious tone and attitude, this album reeks of wild west whiskey fueled thoughts and has a cornucopia of sounds that may surprise you. This band isn't just Bluegrass, it's "foot stomping slamgrass."
Formed within Denver's Jamband scene, Whiskey Tango embraces sounds from many genres and brings it all to a boil with mind blowing live improvisation. For 52 weeks straight, Whiskey Tango had a standing Tuesday night gig at Denver's Jamband headquarters, Quixote's True Blue, and "Tango Tuesdays" became a fixture of the Denver scene. That year shaped Whiskey Tango into a band on a mission to get their music heard by a wider audience and eventually led the band to trim their line-up down to five core members.
While they are the first to admit there is no way a studio recording can capture the energy of their explosive live show, Groggy Mountain Mornings showcases the bands diversity. The album features elements of Bluegrass, Country, Rock, Funk, Reggae and Psychedelia-woven together into one seamless collection of songs. Unanimous love for The Grateful Dead just may well be the unifying thread that holds the Whiskey Tango tapestry together and their love of "Space" left no space unfilled, as would-be silence between songs is filled with transitional thoughts and sounds.
All lovers of traditional Bluegrass as much The Grateful Dead, this band will satisfy hippies, hillbillies, traditionalists and listeners with a thirst for something new. It was that fresh perspective that caused  RELIX Magazine to seek out Whiskey Tango and invite them to include the Groggy Mountain Mornings track "Annalisa" on the December/January RELIX CD sampler.
Listen To "Annalisa" By Whiskey Tango
Whiskey Tango will celebrate the release of  Groggy Mountain Mornings with a party at Quixote's True Blue at 314 East 13th St in Denver on Friday, November 30th.