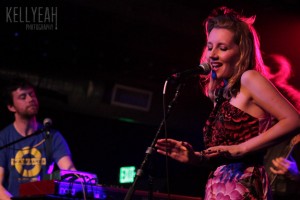 Photos by Kelly Hueseman
The Scene: I guess I'm still looking for reasons as to why the crowd wasn't bigger at Cervantes' Other Side for Rodina's show last week.  It was a Thursday night, Rodina is still making a footprint with its music, there was a big weekend of music ahead with moe. in town…the list goes on.  While there were a handful of fresh faces in the crowd, the medium-sized audience wasn't enough of a showing of gratitude for the awesome music Rodina cranked out all night.
Opener: Jaden Carlson. A young rock fan from Boulder has found a fortunate spot among Denver's best musicians. Opening gigs in some of the most popular venues in Colorado and summer festival appearances have prepared The Jaden Carlson Trio for a regular rotation in the Colorado music circuit. It was refreshing to hear something different on Thursday night at The Other Side, and also nice to hear from a female vocalist and guitar player, especially since she is only 11 years old.
In a few years, once she has experienced life and can better express the emotion behind her lyrics, she will be a force to be reckoned with on the scene. Carlson's sweet, soulful voice is more ripe than it is raw. The maturity in her singing reassures us she will definitely be rocking even harder after she puts some years behind her.
Don't miss Jaden Carlson this Friday night at "Come Together: A Denver Beatles Experience" when she appears with some of Denver's best and most established bands at Stoney's. Tickets are $10 and are available at the door.
Opener: The Last Riot. The Last Riot is a very funky band from right here in Denver and they really came alive when its lead singer, Chelsea Sahleen, came onstage. Her spirited attitude, and crew of ladies front and center on the dance floor, lit up the rest of the band but the short set from these guys was still lacking the big moment that would come from Rodina.
Rodina. In a nutshell, Rodina offered up tight harmonies, an avant-garde sound and deep-rooted musical chops from each member of the super-group on Thursday night. Surrounded by men, the petite Irish singer-songwriter Aofi Hearty fronted the band and dressed the stage on with her enchanting voice, impassioned gaze and chic fashion accessories. I've seen Rodina a few times and the one constant I've noticed is that Hearty is unfailing in her ability to surprise me with her vocals, sounding especially captivating on a song such as "I'm In Your Hands." Her voice is soothing and classic, but also dominant as she takes you on a music journey through time to the height of the jazz era.
Hearty formed Rodina back in 2008 with keyboard wizard Joe Tatton of the UK band loved by many in Denver, The New Mastersounds. When playing in the U.S., Hearty and Tatton are backed by Eric Low and James Dumm, on drums and guitar respectively, from the local rock, funk, and soul band, Fox Street Allstars. On bass, Josh Fairman from Kinetix is always down with a funky fever but the band would not be the same without Joel Scanlon on percussion who really stands out on the group's reggae-inspired tunes.  One such song, "Hypnotise," marked the point on Thursday night when the crowd was fully under Rodina's trance. The band was in sync in every way, and each member really stood out. Huge guitar solos from Dumm did not go unnoticed and it was exciting for Denver fans to see some of our natives playing so well. Rodina has been making quite an impression in Denver and they'll be back soon. Hopefully next time more people will come out and support some great music.
Energy: B
Musicianship: A
Sound: A
Stage Presence: A
Set/Light Show: B-
Overall: A-
After growing up in Missouri listening to vintage records of The Allman Brothers, Carly Simon, and Stevie Ray Vaughan, I was hooked to the live music scene and the contagious sounds of guitar licks and soulful lyrics. After moving to Colorado, I've been contributing to Listen Up Denver! as a freelance photographer and writer. I've also started a side project, KellYeah Photography, which gives me the opportunity to pair my passion for live music with my creativity and love of being around people. Aside from photography and writing, I'm an avid hiker of Colorado 14ers and a beer enthusiast.