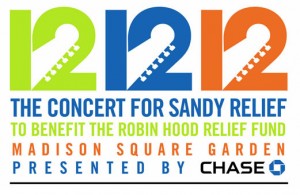 The producers of 12-12-12 announced yesterday that the concert at Madison Square Garden on December 12, 2012, at 7:30 PM (ET), to aid the victims of Hurricane Sandy, has secured distribution to over one billion people. The concert will be able to be seen on 34 US networks and television feeds worldwide, radio and online streaming. "12-12-12," which is presented by Chase, will be distributed across networks and feeds in North and South America, Europe, Africa, Asia and Australia. Tickets to "12-12-12″ are on sale now.
With every major U.S. media company airing the benefit on at least one of their networks, 34 channels will "take over" TV for the night. Clear Channel Media and Entertainment will broadcast the concert live on its radio stations across the country, and will also video stream live on iHeartRadio, Clear Channel's digital radio service, and across the websites and Facebook pages of its 850 stations. In addition, the concert will also stream live across several major online video providers, as well as being streamed and promoted by several digital media partners. The concert will also air in conjunction with the NBA's television and online streaming broadcasts in China and simulcast live on Clear Channel Outdoor digital billboards in Times Square, New York City and locations in London and Paris. Click here to see a complete list of broadcast stations.
Tickets for "12-12-12″ are on sale now through Ticketmaster phones, outlets and www.ticketmaster.com, www.thegarden.com and www.radiocity.com. Tickets are available at a variety of price levels. Ticketmaster has generously agreed to waive its ticket service charges. VIP packages are available through the Robin Hood Foundation. Information on those packages is available by contacting The Robin Hood Foundation at 212-844-3564.
Lineup
Paul McCartney
Roger Waters
Billy Joel
Eric Clapton
Bruce Springsteen
The Who
Bon Jovi
Kanye West
Alicia Keys
Dave Grohl
Chris Martin
Eddie Vedder