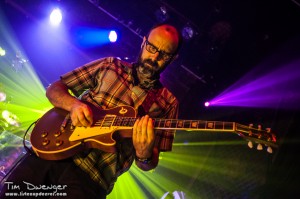 Photos by Tim Dwenger & Kelly Hueseman
Connecting with the audience is something moe. strives to do at every live show. If you're looking for rock stars that head-bang, gyrate, and throw their shirts at the end of a set, this ain't your show. However, if you're looking to see a tireless rock band who plays their hearts out on original tunes with ease, then you gotta see moe. Whenever these five musicians walked onstage at The Ogden this past weekend, the crowd erupted and proved moe. has been successful at keeping its fans close and its "moe.rons" closer. I had to remind myself these are rock legends with over 20 years in the business as their humble attitude poured over their loyal fans who bobbed in sync all night long. If I hadn't turned around to see the hundreds of excited faces with eyes either glued on the stage or closed in a trance as they soaked up searing guitar riffs from Chuck Garvey and Al Schnier, it would have been believable to think I was in the same basement at the University of Buffalo where moe. first started playing music together in 1989.
By the time moe. put their instruments down on Saturday it was after 2 a.m. and while that's rare for a show at the Ogden, what's even more rare is one band cranking out more than five hours of such tight and progressive music over two nights in the hallowed Colfax venue.   Faithful moe. fans may know the band's original name was Five Guys named Moe (a moniker that only lasted a short while) but a whole generation has been turned onto a band that is completely united, almost seeming like one person up there, and kicking ass at every instrument.
Friday – 11/30/2012
Set 1: Dr. Graffenberg, Hi and Lo > The Pit, Not Coming Down > Wormwood > Deep This Time, Recreational Chemistry
Set 2: Silver Sun > Puebla > Interstellar Overdrive > Head, Awesome Gary > Brent Black
Encore: Four > The Ghost Of Ralph's Mom
Saturday – 12/1/2012
Set 1: Paper Dragon > Happy Hour Hero, Big World > Ricky Marten > Where Does the Time Go?, Water > Haze
Set 2: Skrunk > Shoot First, Y.O.Y., Spine Of A Dog > So Long > Wicked Awesome, Sticks and Stones > Spaz Medicine, Plane Crash
Encore: Zed Nought Z > Time Ed
After growing up in Missouri listening to vintage records of The Allman Brothers, Carly Simon, and Stevie Ray Vaughan, I was hooked to the live music scene and the contagious sounds of guitar licks and soulful lyrics. After moving to Colorado, I've been contributing to Listen Up Denver! as a freelance photographer and writer. I've also started a side project, KellYeah Photography, which gives me the opportunity to pair my passion for live music with my creativity and love of being around people. Aside from photography and writing, I'm an avid hiker of Colorado 14ers and a beer enthusiast.