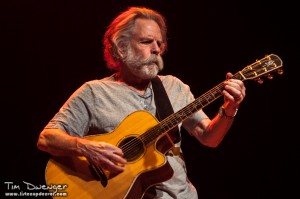 Photo by Tim Dwenger
Why You Should Go: Bob Weir has always fancied himself as something of a front man, but when you play in a band as iconic as the Grateful Dead, you'd better have a few aces up your sleeve…and Weir always does.  He learned from the master, the Dead's original front man, Ron "Pigpen" McKernan, to sing with passion from a place where pain and joy unite to form a single emotion called The Blues.  With his love for Country Music and early Rock & Roll, Bobby developed a "Cowboy-Elvis" style of singing which shined more and more each night as an ailing Pigpen succumbed to alcoholism.  Well before Pigpen's untimely death in 1973, Bobby had emerged as a vocal force in the band and a powerful foil to Jerry Garcia's laid-back vocal style.  His unique rhythm guitar playing—using open chords played in different positions up and down the fretboard—carved out a musical space that floated perfectly between Garcia's cosmic noodling and Phil Lesh's atomic bass lines.  In the early seventies, after a rocky attempt to collaborate with the Dead's poet laureate Robert Hunter, Bobby formed a lasting collaborative relationship with John Barlow, who has penned many of the lyrics to Bobby's arrangements.  Add to all this a wry, laconic sense of humor and you've got Doc Holiday as a front man.
Now, with his solo acoustic tour—only the second of his long career—Weir transforms from the front man to the man up front, going it alone like the archetypal cowboy.  But sometimes even a cowboy needs a sidekick and Bobby has found one in fellow gunslinger and savior of Folk music Jackie Greene, who is his special guest for the whole ten-date tour.  In short, this is a must see show. It is Weir boiled down: passionate singing, masterful songwriting, unique guitar work, and there are sure to be some hilarious one-liners delivered in his classic deadpan style.  So ante up to play another hand with Bobby but don't be surprised when he lays down a Royal Flush, aces back to back.
Venue: The Paramount Theatre – 1621 Glenarm Place, Denver, CO 80202 – 303-623-0106
Doors: 7:00 P.M. Show starts at 8:00 P.M.
*Price: $37.50 – $56.00
Click Here to Purchase Tickets
*All prices are gathered from other sources and we are not responsible for mistakes or inconsistencies. They are intended only as guidelines. Please, always call the venue if you desire the most accurate information possible.