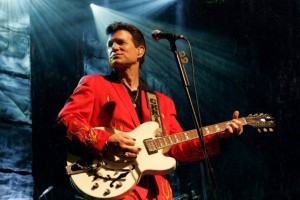 The Scene: It was an unseasonably warm evening for December and, without the marquee listing the name of the headliner, you wouldn't have even known there was a show going on at The Paramount from the outside.  Unbeknownst to me, Chris Isaak and his band were the sole musicians taking the stage for the night and his fervent group of followers were already huddled inside the famed theater to soak up every minute of his show when we arrived.  The inviting lobby was also a ghost town only a few minutes after Isaak's set had started and, after picking up an adult libation from the friendly bartenders, I opened the doors to a venue full of holiday cheer.  Chris Isaak and his band were in the midst of performing a mini-set of Christmas standards and the crowd was feeling as festive as the red and green ribbon backdrop that encompassed the stage.
Chris Isaak: In between running through a couple of his original Holiday tunes, Isaak told tales of his own childhood holiday memories.  The Isaak household, like many others, was filled with some laughter, but mostly with arguments between the relatives that had come from far and wide.  He topped off his Christmas section of the show with a smooth as silk rendition of Elvis Presley's "Blue Christmas" and a short Jimmy Stewart impersonation.  From the get go Isaak's effortless banter with the crowd and his comedic timing threw me for a loop in the best kind of way.  Both he, and his five piece backing band, were channeling a style straight from the 1950's with Isaak clad in a deep purple sequined suit and his sharp dressed band mates wearing silver suits with skinny black ties.  A purple sequined suit you say?  It may seem like a bold fashion maneuver, but with a stage presence like his, Isaak could have been wearing just about anything in the glare of the spotlight.
Isaak then took the crowd on a tour of some of his more popular tracks. The back lighting changed to match the iridescence of the band's suits and they were off and running with songs lasting no more than 2 or 3 minutes apiece.  "Somebody's Crying" and "Wicked Game" were highlights that showcased not only Isaak's penmanship but also his insane vocal range.  The man can seamlessly switch from a baritone growl ("Baby Did A Bad Bad Thing") to a soaring falsetto (that chorus opening croon in "Wicked Game") with such ease that it is hard to comprehend and a real marvel to experience live.
My favorite aspect of his set was when he dropped a giant neon "Memphis Recording Service" sign into the backdrop and told the story of legendary producer Sam Phillips and Sun Studio.  He explained that the likes of Elvis, Johnny Cash, Roy Orbison and Jerry Lee Lewis had all cut records in that small studio and how it changed the face of music forever.  On his most recent record, Isaak and his band made a stop in Sun Studio and cut their own versions of a few of these tracks, and then proceeded to showcase them.  It's safe to say I've never witnessed a showman of Isaak's skill in my concert going career.  His ability to mold his voice to the legends of rock and roll was a wonder to behold.  His versions of "Pretty Woman," "Ring of Fire" and "Great Balls of Fire" are a testament to his love for his idols and the musicians that came before him and molded him into the performer he is today.
There was honestly not a moment of Isaak's show that I wasn't smiling ear to ear, either from hearing the classics that I was raised on or him inviting the middle aged female groupies on stage to dance with him and his bass player (who he was admittedly trying to set up with some action for the evening).  Chris Isaak is the epitome of an entertainer, and he damn-well knows it.  The show was part tight musicianship, part stand-up comedy and part pure love of performing.  His charisma and charm oozed from the stage and I daresay he has gained more of it over the years and is settling into his prime.  I find it comical that performers in the rap game incessantly have to talk and rhyme about having "swag," and an unassuming, self deprecating guy like Isaak need not say a word about it; just put the lights on him and he'll give you more than you bargained for.  He could take this show to Vegas and pack houses for years to come, and I wonder if that's not the next logical step for him as his panache for working a crowd is nearly unparalleled.  Let me ask you this, if a guy was walking on the street carrying a guitar with his name emblazed on the body, crooning in a god-damned disco ball suit, you'd think he was off his rocker or dying for attention.  In the case of Chris Isaak, it's just another night on the road playing an encore for his adoring fans.
Energy: A
Musicianship: A
Sound: A
Stage Presence: A+
Set/Light Show: A-
Overall: A