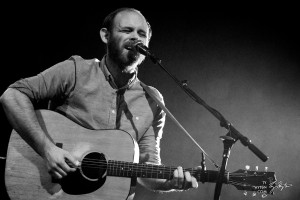 Photos by Ty Hyten
The Scene: Arriving moments before the opener took the stage, I walked into a strangely empty Bluebird Theatre this past Friday night. Twenty-somethings were scattered about each level and talking quietly while sipping PBR's. It was a bit of a lonely sight for a Friday night.
Opener: Frank Fairfield. An extremely soft-spoken Frank Fairfield walked out, seemingly from a time machine, wearing an old fashioned dress coat and a walrus mustache. He opened by playing an Irish fiddle piece that earned him hoots and hollers from the thin crowd. He cycled through fiddle, banjo, and guitar tunes, his voice quivering as though coming directly from the grooves of a 1930's Lomax field recording. As he picked, moaned, and rambled through his Country Blues a drunken man in the crowd shouted something at him. Fairfield timidly mumbled "hurts me more than it hurts you." You could feel the pain his voice but he continued to play raw, speedy, fingerstyle guitar that helped pass the beer before the headliner.
Horse Feathers: Though Portland's Horse Feathers began as the moniker of singer Justin Ringle whose silky vocals fill his songs with an dark and airy mood, over the past few years he has fleshed the group out through a careful selection of musicians and instrumentation that now convey the entirety of the emotion that his songs are filled with.  By the time Horse Feathers took the stage the crowd had begun filling in, and the sympathy I had felt for Frank Fairfield washed away with the cheers from the crowd as two violins weaved around each other accompanied the resonant swells of a cello.
I had seen Horse Feathers completely unplugged a few years back in CU's tiny Club 156 and really enjoyed it but what they brought on Friday was a much more singular effort. I was truly taken aback by how much more refined their sound has gotten and how great they sounded live. All of the songs unfolded just as well on the stage as they do on my bedroom stereo. Early in the set, an impeccably played "Bird On A Leash" was worth the price of the ticket alone. The crowd listened attentively and swayed gently all night, cheering loudly between songs. The talents of the band expanded beyond their playing with beautiful harmonies on tracks like "Last Waltz" but it wouldn't have been an Americana-tinged Folk show with the spooky howl of the saw on "Cascades" right before the encore. The night ended with the beautiful "Nearly Old Friends" and I will admit, even as a fan, much of their music sounds alike. The set may have felt like one long song to the casual listener but even if you were one of the ones left with that impression, you wouldn't deny that the evening was the best 90 minute song you've ever heard.
Energy: B-
Musicianship: A-
Sound: A-
Stage Presence: B+
Set/Light Show: C-
Overall: A-