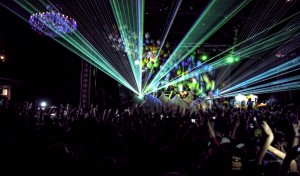 Photos by 303 Photography
The Scene: The crowd outside The Fillmore was impatiently waiting to get inside, partly because of the falling sheets of dusty snow accompanying a freezing cold Denver night, and partly out of pure anticipation for the music and artwork that awaited them inside the auditorium.  Many of the costume-clad patrons were carrying bags of canned goods for the Conscious Alliance food drive that was the beneficiary of the evening.  This was a testament to the nature of the crowd and the culture of followers that the String Cheese Incident percussionist's side project has cultivated.
Opener: NitGrit.  The night opened with San Jose based Dubstep producer NitGrit.  While his brand of up-tempo and glitched sounds was a solid segue from the cold of the night, the crowd was sparse at this point in the evening and lacked the enthusiasm that makes for an ideal dance party.  The poor guy looked like a giant on stage, as his poorly engineered DJ table appeared to be 3 feet off the ground.  His visuals, which would have been fitting in a small setting like Cervantes' paled in comparison to what was to come the rest of the night.
Opener: VibeSquad. Although the name might suggest a group dynamic, VibeSquad is helmed solely by Colorado resident Aaron Holstein.  Where NitGrit's aggressive and bass drenched sound lost me at moments, VibeSquad picked up the pieces and laced together at least an hour of nuanced Hip-Hop and Dub fusion that really took the crowd's energy to the next level.  Standing in the midst of an almost pitch black stage, two massive lasers were panning over the crowd and shifting through the spectrum of neon, giving you the impression that you were locked inside a box of shifting sight and sound.  His energy on stage, constantly bobbing his head and at moments singing and rapping along in the mic, combined with his prowess for mixing one genre and track into the next was a great choice to lead into the main event for the evening.
EOTO: Albert Einstein once said, "The most beautiful experience we can have in life is the mysterious." That beauty and mystery is perfectly reflected in the auditory styling of EOTO as they certainly provide a mysterious experience. One must wonder how two men can create such a wide variety of sounds, which come off as so cohesive, purely in the moment. This is an elevation of the EDM music scene. Where other DJ's or Producers incessantly tweak and alter their songs in the comfort of their studio, EOTO does it all live and improvised so cleanly that it seems impossible. The word synergy comes to mind when you see the duo on stage together; no words are spoken between them but there is an inherent understanding of what's coming next. I think that's what is so intriguing about EOTO, that it is neigh impossible to understand what they are doing on stage, yet it all sounds so right.
As they came on stage it seemed like the crowd instantly doubled. What first seemed to be a paltry turnout swelled in to a leviathan sized group of music-crazed dancers. Their light set up was stunning and everyone was on their toes in order to catch a glimpse of the 3-D mapped Lotus flower that encompassed the stage. About ten minutes into the set, EOTO kicked on the two monolithic laser machines on opposite sides of the stage. The lasers and Lotus created a visual feast that could not be ignored.
The music started off fast, with clean drum lines, whimsical synths, and throaty bass lines. People around me were into it from the very first note, immediately becoming lost in the music and their own groovy dance moves. Because EOTO is all-improvised, it seems like they forge a strong connection with the crowd they are playing for allowing them to read and lead people to the places that they want to go. They were genre mashing the entire time as they dropped Dub piano leads, a broad swath of covers ("Sexual Healing," "Pop Lock and Drop It," and "How Low Can you Go"), Les Claypool-esque bass arrangements, and high paced Latin/Salsa jams. The crowd was constantly on their toes, never knowing what was going to happen next.
People around me were all smiles while they were trying to keep up with the most recent tempo and genre shift. There were swirling conglomerations of groovers that you would get caught up in, your only choice being to dance a little harder and show them what you are working with. I felt elated, especially when Alex and Allison Grey took the stage to a thunderous roar from the crowd. The combination of these two groups of visionaries was almost too much to wrap your mind around. It was a blessing to see them share the stage. EOTO stands in the echelon of musicians who are doing something completely unprecedented as they seamless stitch together old school jams and new age dance music.
Energy: B+
Musicianship: A+
Sound: B+
Stage Presence: A-
Set/Light Show: A
Overall: A