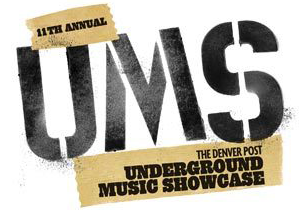 Denver's Underground Music Showcase (UMS) has announced the first round of artists that will be performing over the course of the 4 day festival (July 21-24).  Some of the big names on this list include Snake Rattle Rattle Snake, Houses, Ian Cooke, Danielle Ate the Sandwich, A Shoreline Dream, Bonnie and the Beard, Bop Skizzum, Corey Turuya (of Hello Kavita), The Knew, Photo Atlas, and All These Billions.  Tickets are available for $25 until May 31st here.  After that, prices go up.
See below for the complete list so far:
200 Million Years
3Two
A Shoreline Dream
Tom Collins
Abi Robins
Accordion Crimes
Achille Lauro
Alameda
All These Billions
Amazing Twin
Archeology
As Tall As Buildings
Bad Luck City
Bare Bones
Barnacle
BLKHRTS
BLNX
Blue Million Miles
Blueberry Cake
Bonnie and the Beard
Bop Skizzum
Bury My Bones
Cardinal Grey
Casey James Prestwood and The Burning Angels
Chavez Y Chavez
Chella Negro
Churchill
Colfax Speed Queen
Common Anomaly
Corey Turuya
Cotton Keys
Dan Craig
Danielle Ate the Sandwich
Doubters (formerly China Venture
El Toro de la Muerto
Eolian
Epilogues
Fingers of the Sun
Flashlights
Force Publique
Galaxies
Girls Walk By
Git Some
Glass Hits
Glowing House
Green Typewriters
Grub Street Writer
Halden Wofford and the Hi-Beams
Hearts in Space
Hideous Men
Hindershot
Hot White
Houses
Ian Cooke
Il Cattivo
Jay J Matott and the Arctic
Jeffrey Dallet
Jen Korte (solo)
Jessica Sonner
Jim McTurnan and the Kids that killed the man
Joel Van Horne (of Carbon Choir)
Josh Dillard
Joshua Novak
Ken Arkind
Kingdom of Magic
Kissing Party
Lil' Slugger
Lion Sized
M. Pyres
Magic Cyclops
Monroe Monroe
Mr. Pacman
New Ben Franklins
Oliver Vanity
Panal SA de CV
Petals of Spain
Pina Chulada
Pink Hawks
Porlolo
Port Au Prince
Radical Knitting Circle
Reviving Cecilia
Rob Drabkin
Rubedo
Sarah Slaton
Serious Moonlight
Snake Rattle Rattle Snake
Sour Boy Bitter Girl
Spires
Sun Red
Take To The Oars
The Dendrites
The Denver City Saltlicks
The Don'ts and Be Carefuls
The Foot
The Hollyfelds
The Knew
The Lumineers
The Maykit
The Photo Atlas
The Pirate Signal
The Raven and the Writing Desk
The Reckless Nights
Tim Bruns (of Churchill)
Tommy Metz / Iuengliss
Ukulele Loki
Varlet
Vitamins
Wheelchair Sports Camp
Wire Faces
Young Cities
Music has always been a part of my life. It probably all started listening to old Grateful Dead, Peter Paul & Mary, and Simon & Garfunkel records that my parents had, but it wasn't long before they were taking me to concerts like Starship, Crosby, Stills & Nash, and Huey Lewis & The News. I got the bug to write about music after reviewing an Eric Clapton concert for a creative writing project in high school but didn't really take it up seriously until 2002. Since then I have published countless articles in The Marquee Magazine and done some work for Jambase.com, SPIN Magazine, and various other outlets. I started Listen Up Denver! as a way to share the music information that is constantly spilling out of my head with people who care. Please enjoy!