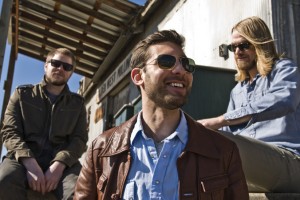 Photo by Tobin Voggesser
Why You Should Go: The Mayan calendar has predicted the end of the world on Friday December 21st, 2012. To celebrate, The Whales are throwing one hell of a party. This will be their last show in Denver of 2012, and after a fantastic spin around the sun, they are excited to be wrapping the year up at the Hi-Dive.  On top of that, they took extra care to bring you some of your favorite bands to round out the bill. Mosey West is turning heads all over the front range and should not be missed, nor should new Denver band We's Us. This is going to be a great evening, and tickets are only $6.00, so come out to ring in the end of the world with The Whales, Mosey West and We's Us.
Tapping into the history of rock & roll, The Whales are blending contemporary and classic sounds alike. With rich vocal harmonies, heavy song craft, and an impeccable live show, the band is quickly turning heads with their original blend of Blues, Americana, Soul and Rock & Roll. Mosey West is an Indie Folk Rock band from Fort Collins, CO. The three original members met in garages and basements around town and began playing shows in February of 2011. In October of 2012, the band picked up multi-instrumentalist Cody Russell on pedal steel. We's Us is an alternative rock band out of Denver, Co-fronted by Michael "Weeze" Dawald (guitar/vox), and 4-6 interchanging professionals on bass, drums, guitar, vocals. percussion etc.  With this many top-notch musicians in one place, it would certainly mean the end of the world if you miss this show!
Venue:  The Hi-Dive, 7 South Broadway, Denver, CO 80209 – (720) 570-4500
Doors: 9:00 pm / Show: 10:00 pm
*Price: $6.00
PURCHASE TICKETS
*All prices are gathered from other sources and we are not responsible for mistakes or inconsistencies. They are intended only as guidelines. Please, always call the venue if you desire the most accurate information possible.