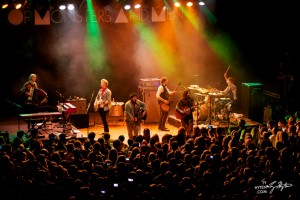 Photos by Ty Hyten
The Scene: The sold-out Boulder Theater was packed with fans of the Icelandic pop folk group Of Monsters And Men this past Wednesday night. I arrived to a much smaller line out front than anticipated, but the beautiful Art-Deco venue filled in rather quickly as show time approached. I tend to dread all-ages shows due to obnoxious kids packing into the pit, but the crowd Wednesday was a wide mix of even keeled 16-40 year olds. The room was loud with conversation and excitement as an unannounced opener took the stage.
Opener: Esme Patterson.  The billed opener was Elle King, a rather generic female singer, who I was less than excited to hear after seeing she included an acoustic cover of a Khia's "My Neck, My Back" on her EP. I think it's safe to say the acoustic rap joke is overdone and rarely funny.  Much to my surprise Denver's own Esme Patterson walked out onto the noisy stage. You may know Patterson from the extremely talented local band Paper Bird. She recently released her first solo album All Princes, I, which has been occupying my CD player in the car for a good while and I recommend grabbing it from Twist & Shout.
Esme and her drummer sounded great but were sadly too soft and subtle to grab the full attention from the loud room. Esme played music from her new record gracefully and beautifully over the loud sea of fans that came with something a little louder and more accessible in mind.
Of Monsters And Men: Of Monsters and Men have experienced a meteoric surge in popularity this past year as they rose from Icelandic obscurity to chart topping success in the US with their Folk-Pop music driven by two unique and outstanding vocalists. I had seen them amaze crowds of thousands at Sasquatch Music Festival and Outside Lands this past summer and Wednesday night they didn't fail to put on a great show for the much smaller Boulder Theater crowd. The band opened with "Dirty Paws" which began with just acoustic guitar and two beautifully matched voices then built to the pumping energy that carried the evening.
Both singers Nanna and Raggi spoke in a thick incomprehensible accent between songs, but belted the English lyrics articulately. Each singer's voice stands out as unique and are what made me take notice when seeing them on a KEXP session last year. Nanna's voice reminds you of a child with the nasally rasp of an adult and Raggi's like a cherub with a subtle accent.   As they sang "We are far from home, all alone, but we're so happy" during "From Finner" I couldn't help but smile and believe it after the amazing success story that has unfolded for the sextet in the past year and half. The band sounded tight and didn't stray far from the album. The only real standout was Ragnhildur Gunnarsdóttir who played trumpet and keys, simultaneously at times. I enjoyed the set and sang comfortably beneath the voices of those around me to save myself from embarrassment. Every song grew into a sing-a-long at the chorus, seemingly constructed for a thousand happy voices.
The radio hit "Little Talks" and "Six Weeks" were high points of the evening and  bolstered significantly by crowd energy and the night ended with a three song encore of "Sloom," "Beneath My Bed" and "Yellow Light" with a thunderstorm of chaotic dissonance as an intro. This song ended the night as it should, with nearly a thousand fans singing along before pouring out in the Boulder night towards an impending Thursday morning.
I really enjoyed the show, but it did lack a bit of the energy I saw from them at both music festivals this summer.  I wasn't let down, but it could compete with seeing them at the Gorge. The sound was good, the crowd was fun and loud, and the night was worth the cost of entry. Maybe even for those who bought tickets for a premium on Craigslist.
Energy: B+
Musicianship: B+
Sound: B-
Stage Presence: B+
Set/Light Show: C+
Overall: B+