Note: I got to cover this show for Spin.com . . . yeah Spin! Hopefully my first of many gigs for them.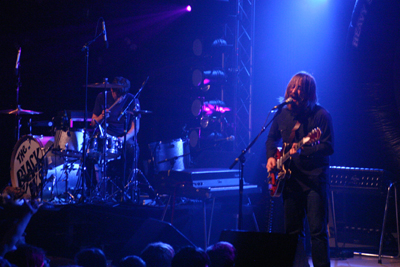 Photo: Eric Gruneisen
The Scene: Even before the opener, Jay Reatard, came on the Ogden was pretty full. Evidence to the mass appeal of this band, tickets were going for $70 and there were under 21s mingling with grey hairs all the way up the rail. By the time the brief opening set was over people were jockeying for position and holding their ground as the temperature began to rise and it really began to get packed.
Opener:
"The Chubby Ramones" was what the guy next to me called Jay Reatard, and he was pretty much right on. They are significantly younger than the Ramones but their sound owed an enormous debt to band like the Ramones and others of that era. Rarely acknowledging the crowd, except for flipping the bird to us all as they walked off stage they ran through about 12 songs in less than 25 minutes. Short and sweet . . . and loud.
The Black Keys: This show was raw. I don't mean delicate and tasty "sushi raw," I mean "day old hamburger that's been sitting by the grill all night," raw. The kind of raw your momma didn't want you going anywhere near. It's mean, retching from the gut rock'n'roll, and it's delivered with passion. After the brief, spitfire set of vintage punk rock that opened the show, the duo of Dan Auerbach on guitar and vocals and Patrick Carney on drums emerged and showed their Denver faithful that they know just how to shove music down your throat . . . and make you like it.
As soon as they took the stage to thunderous cheers from the sweaty and packed house, it was clear that these boys meant business. Under strobes, swirling lights and the shadow of a giant inflatable tire representing their roots in Akron, OH reading "Heavy Sole," these two proceeded to wail through 75 minutes of blues soaked rock that rarely let up.
Auerbach and Carney pulled out all the stops and flung sweat from their hair as they raged through crowd pleasers "Set You Free," "Strange Times," and "Stack Shot Billy." After ironically notifying the crowd that they had been "training at high altitude" for the gig, they slowed things up for the balladry of "You're The One" and caught their breath enough to dive headlong into the rest of the show.
After Attack & Release gem "I Got Mine," the duo took a brief break as nearly every member of the audience pumped their fist and begged for more. When they returned, Auerbach took a seat at the organ that he had neglected all night and quickly proved it deserved its place on the stage as he alternately conjured what seemed to be guitar riffs from the keys and stood with his head back and eyes closed, coaxing from the instrument the deepest tones it would allow. It seemed a fitting closure to a raucous show until the guitar slinger strapped on the six-string again and the pair blew through "Till I Get My Way," to send the crowd off into the uncharacteristically wet and rainy Denver night.
Energy: A
Sound: B+
Musicianship: B+
Stage Presence: A-
Set/Light Show: A
Overall: A-
Music has always been a part of my life. It probably all started listening to old Grateful Dead, Peter Paul & Mary, and Simon & Garfunkel records that my parents had, but it wasn't long before they were taking me to concerts like Starship, Crosby, Stills & Nash, and Huey Lewis & The News. I got the bug to write about music after reviewing an Eric Clapton concert for a creative writing project in high school but didn't really take it up seriously until 2002. Since then I have published countless articles in The Marquee Magazine and done some work for Jambase.com, SPIN Magazine, and various other outlets. I started Listen Up Denver! as a way to share the music information that is constantly spilling out of my head with people who care. Please enjoy!