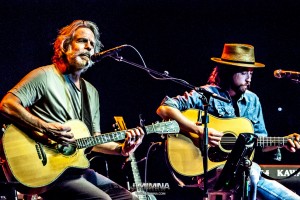 Photos by Jim Mimna
The Scene: The sweet smell of Colorado's newest legal herb hung in the air as we approached The Paramount last Thursday night as hundreds of Deadheads milled around under the marquee with fingers in the air hoping to score a ticket at the last minute.  As we walked into the lobby, I was surprised to hear Jackie Greene's voice drifting through the open doors to the orchestra as it wasn't even 8 o'clock yet . . . apparently he came on a bit early to squeeze a few more tunes into his set.
As we got settled, I was shocked by how many people weren't paying one lick of attention to the fantastic singer-songwriter who was up on-stage pouring his heart into his music.  Instead people were talking, arguing with ushers, and generally being about as disrespectful as possible.  It was a real shame, because if these aging Deadheads had been paying attention, they would have been turned on to one of the handpicked heirs to The Dead's beloved music.  The thing that surprised me the most was the loud conversation that was taking place in the row directly behind me that was focused on what a great set Greene had played at some summer music festival last year . . . I mean . . . are you kidding me???  You are talking about a great set, while the same guy you are talking about is on-stage just a few feet from you???  Next time don't waste your money on tickets and over-priced beer and get drunk and chat with your friends at home so the rest of us can enjoy live music the way it was meant to be experienced. (Rant over)
Opener: Jackie Greene. As we found our seats, Greene was delivering a great version of the laid back "I Don't Live In A Dream" from his 2008 album Giving Up The Ghost (though we didn't know it at the time, this turned out to be his opening song).  While not my favorite tune in his catalog, the song shows Greene's diversity as a singer and a songwriter as it leans a little more in the Pop direction than some of his more Blues and Jam oriented material.  The old favorite "Gone Wanderin'" got people singing a bit, but the din from the packed lobby was still filtering in from the open doors and proved distracting.
An early highlight of the set was a great take on "Brokedown Emotion" that was tender and haunting and may have even quieted a few of the talkers, if only for a minute.  As he broke into a take on Dylan's "Fourth Time Around" that he claimed to have never played live before, the crowd responded with a wave of cheers.  As the set moved on the switched up guitars, took a seat at his keyboard, and even brought out a National Steel for a version of Robert Johnson's "Come On In My Kitchen" that sent chills down my spine before he served up two of my favorites, "Shaken" and "Tell Me Mama, Tell Me Right" back to back.  While the latter got one of the biggest responses of his set, they both shined in the solo acoustic setting.  Greene wrapped up set with the Garcia / Hunter tune "So Many Roads" and as the last notes faded away Weir stepped out of the shadows and picked up a guitar as Greene waved and exited the stage.
Bob Weir:  As most fans of The Grateful Dead have experienced in recent years, Bob Weir can be an on-again off-again performer these days and his solo set gave us a little of each.  He kicked things off with an uneven take on "The Music Never Stopped," seemed to search for a few lyrics during the second Dylan song of the evening "Maggie's Farm," and "El Paso" just didn't pack the punch that it could have (but don't get me wrong I love that song and was thrilled to hear it live).  Things turned around midway through the set when Weir nailed a beautiful  version of "Peggy-O" and seemed to get his confidence back. From there the set was a joy as Weir ran from a rousing version of "Loose Lucy," that got the audience into the action, into "Corrina" and then "A Hard Rain's A-Gonna Fall" the third, and not final, Dylan song of the evening.  The crowd was buzzing with excitement as the set closed with "Not Fade Away" and Bobby told us all he'd back in just a minute.
After a brief intermission that allowed us to catch up with some friends, Weir returned and welcome Jackie Greene back to the stage for a six song set that was one long highlight.  They opened with yet another Dylan tune, "All Along The Watchtower," and proved very quickly that they are greater than the sum of their parts when performing together.  "West L.A. Fadeaway" (another personal favorite of mine) followed and I was in heaven when the first notes of an eleven minute "Bird Song" rang out.  Greene handled the songs main theme beautifully on the Banjo and even broke things down with a nice little Banjo solo midway through.  Throughout the set the pair traded solos and verses and seemed to be having a great time under the as they flashed smiles and laughed at inside jokes between songs.
Dylan's lyrics made yet another appearance when the pair tackled his tender ballad "Most Of The Time" before taming the Temptations Funky rave-up "Standing On Shaky Ground" to the delight of the packed house.  They slid smoothly into another version of "Not Fade Away" to close the set and despite the audience keeping up the clap in hopes of an encore, the lights came up quickly and the show was over.
In all honesty I wasn't sure what to expect when I walked into the Paramount, but I left with a big smile on my face.  These two had surprised me with a great show that only had a few low points outside of the loud and disrespectful crowd.  Remember folks, these acoustic shows aren't stadium Dead shows from the 90's, don't expect to be able to spin in the aisles of a classic theater, or rush the stage as an artist performs solo acoustic on stage.  Let's grow up a bit and respect the musicians we are all paying to see do their thing . . . or they aren't gonna do it again.
Setlist:
Jackie Greene  – Solo: I Don't Live In A Dream, Gone Wandering, Brokedown Emotion, Fourth Time Around, Nobody's Fault But Mine, Come on in My Kitchen, Shaken, Tell Me Mama, Tell Me Right, Hallelujah, So Many Roads
Bob Weir – Solo: The Music Never Stopped, Maggie's Farm, Bombs Away, El Paso, The Winners, Peggy-O, Loose Lucy>Corrina>A Hard Rain's A-Gonna Fall, Not Fade Away
Bob Weir and Jackie Greene: All Along the Watchtower, West L.A. Fadeaway, Bird Song, Most of the Time, Standing On Shaky Ground>Not Fade Away
Energy: B
Musicianship: B+
Sound: A-
Stage Presence: B+
Set/Light Show: C
Overall: B+
Music has always been a part of my life. It probably all started listening to old Grateful Dead, Peter Paul & Mary, and Simon & Garfunkel records that my parents had, but it wasn't long before they were taking me to concerts like Starship, Crosby, Stills & Nash, and Huey Lewis & The News. I got the bug to write about music after reviewing an Eric Clapton concert for a creative writing project in high school but didn't really take it up seriously until 2002. Since then I have published countless articles in The Marquee Magazine and done some work for Jambase.com, SPIN Magazine, and various other outlets. I started Listen Up Denver! as a way to share the music information that is constantly spilling out of my head with people who care. Please enjoy!