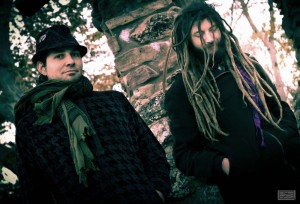 The Scene: It seems that Cervantes' is the Mecca of the Denver EDM scene. Every time I go there I am surrounded by familiar faces and undoubtedly run into some one I have met during my concert going career. The building itself is unassuming, but the inside is appealing. It is a dark cavernous space, with relatively low ceilings containing all the energy that is created by the music and the dance floor. One of the things I love about Cervantes' is the merchants and hawkers on the margins of the dance floor fusing physical, tangible art with the music being presented that night. Cervantes' doesn't typically offer up a ton in terms of the visuals/stage set up but this night was different. Following the recent trend of 3D projection mapped stages, Family Moons (the Promoter) offered up a spectacle of fractal images onto the broad stark white stage.
Future Simple Project: Future Simple Project is a conglomeration of two local DJ's; Miraja and Mickey Fisher. Their sounds provides a variety of moods from deep, heavy, grinding bass to beautiful harmonic, full interludes. The crowd is taken on a journey of emotions as the DJ's technically warp between different motifs. As I walked in their set had already begun and they had a lovely female vocalist on stage with them. She provided harmonies, filled hype-man duties, and sang sparse Hip-Hop verses. Miraja and Mickey bring a calm and centered stage presence, skipping out of the superfluous hyping and dance moves. They let the crowd do the moving for them…and we were certainly getting down. People around me were dipping low, jumping and wiggling like strands of kelp, all as I diligently took notes on my iPhone. The sound seemed to be enhanced in some way, perhaps by a display of knowledge and craft on the DJ tables. Low frequencies rattled through Cervantes' like rolling thunder. The music was clean and inspired sending the concertgoers into a transcendent realm. Their sound is much different then most American Dubstep with drops that are slowed down creating a grinding ripping bass. Slowstep, as it is sometimes called, doesn't lack the energy produced by its 140 BPM cousin, if anything its slow pace enhances the passion and intimacy of the music.
Love and Light: Combing the musical talents of Matt Madonna and Ryan Anderson produces Love and Light, a cosmic duo from the littlest big city: Reno, Nevada. These two are the Yin to Future Simple Project's Yang. Their stage presence is energetic and quite demonstrative. Their music is a big more upbeat using near Drum and Bass tempos, mixed with moohbahton and four on the floor beats to create a super high energy feeling on the dance floor (one that can make the out of shape stop for a second and catch their breath). All of this energy is driven by clean, live sounding drum samples. Oh what a good drum sample can do (see Tipper). These guys are scratching at the upper echelon of EDM but perhaps their music needs a touch more dynamism.
Perhaps it was the late hour on a humble Thursday night, but the crowd seemed to thin, rather than bulge, as Love and Light's set continued. The dance floor had vast seams of grooving space that could be taken and relished but the beat seemed to never change and despite the break neck speed of the music, I was lulled into a simple two step and head bob. In spite of this there were some very interesting sounds being produced by the two on stage. Deep fluttering basslines like a humming bird zipping past your head. Clunky, stuttering, glitchy synth noises paired with the sacred geometry visuals created an immersive and trippy experience at points. As an added bonus they had some Hip-Hop dancers doing some pop and lock routines on the side of the stage. The music is definitely positive, technical, and energetic. Whether it was the dwindling crowd or my perceived monotony of the music I didn't make it until the end of the show. Albeit I left the venue dog tired and content with my experience on this late fall Thursday night in beautiful Denver.
Energy: B
Musicianship: B-
Sound: B+
Stage Presence: B
Light Show: A-
Overall: B