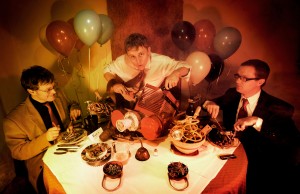 The Scene: The Hi-Dive has always been one of the go-to venues in Denver for independent music, and the South Broadway staple continues to live up to it's reputation. Hipster girls in sweaters and glasses a bit too big for their faces shuffled their slouched boots across the well worn floor while plaid shirt wearing boys rocked out to the sometimes heavy sounds of a couple of Denver's best Indie bands, and a couple that you definitely will be hearing more about.
The first band started off in a dramatic fashion, but by the time The Knew took the stage, that drama had turned into debauchery…in its most lovely form. For a few songs of The Knew's set, there was a subdued explosion of testosterone, joy and rage as 6 or 7 white boys aggressively bumped into each other and threw their fists in the air. I think that's what the kids used to call a "mosh pit." Well, whatever you call it, it sure looked fun, and possibly a bit dangerous…just like the Hi-Dive. No, do not fear the South Broadway dive bar, just know when you cross its threshold, and drink heavily, you may expose yourselves to dangerous amounts of fun.
Opener: The Raven and The Writing Desk. This band's sound conjures thoughts that reflect their name. Dramatic and timeless; the mysteriously melodic sounds packed a punch, and have a certain vaudevillian campiness and dark cuteness which is refined with a Parisian Ballroom vibe. Raven, writing desk, Paris and Poe are the ingredients that go into this soundscape. The upbeat and bouncy keys during "Infancy til' Death" blended with the violin strings stroked by Adrienne Short, and proved to be my favorite song of the set.
The Outfit: The Outfit has a youthful energy and exuberance that comes off raw at times…and with a raw sweetness others. The guitar heavy sound rocked hard and covered a lot of ground. There were inklings of Indie Rock, hints of Emo, a pinch of Punk and a grain of Grunge. There was also a vintage Americana, bordering on Psychedelic Pop, presence. Tunes influenced by familiar popular music sounded new as they ran the gamut from bouncy to brawling.  The lead singer appeared aloof, but that air was punctuated by bolts of power straight from the gut. There were thick, heavy riffs and driving drums that exploded along with bits of confetti from the ceiling. It was a hard rocking set that set the stage well for The Knew.
The Knew: People who knew The Knew before this show were out in full force, singing along to every lyric, and those who didn't were treated to a set that proudly stated "If you didn't know The Knew, now ya know The Knew." I must admit that before this show I knew a bit about The Knew, but had never seen them perform, and I was impressed with the voracity of their approach as they tapped into the old with flavors of Americana spiked seventies rock. Heads nodded hard, and a few girls broke into near dance as they shuffled from side to side, or bounced with their arms at their sides and palms to the floor.  Although the crowd was mostly rigid, there were a few in front who were totally tuned in, and their innocently rowdy ways pushed and shoved along to the aggressive tone of the music. Not aggressive in a speed metal kind of way, or a windshield washer approaching your car with a bucket and a wild eye at a stoplight in NYC…but head-on, hard, and confident. They may not have inspired my feet to move, but I am sure it would inspire you to drive fast with the windows down if played in your vehicle. The mosh pit morphed into stage diving, and the set ended with a hard thrash that made me want to throw my glass to the ground and then scream, "Yah! Now that's Rock and Roll boys."
Faceman: I didn't become aware of Faceman until he put down his mask, and I am kind of glad for that. Why? Because I probably would have been distracted by the props and identity hiding, and judged that it was probably there to overcompensate for a lack of musicianship.  Not the case here!  The Faceman who closed this show was a guy named Steve who writes damn good songs and I could look him in the eye and see who was telling the stories and singing the songs. There was nothing to distract and I saw a great set free of frills, but heavy on heart. Unfortunately the crowd had thinned out a bit by the time he took the stage, but I expect when The Outfit and Faceman return to Hi-Dive on New Years Eve, in support of Strange Americans, the room will be packed from wall to wall for three of Denver's best bands.  Buy your tickets today!
Energy: B+
Musicianship: B+
Sound: B-
Stage Presence: B+
Set/Light Show: C
Overall: B

Brian Turk grew up in the shadow of the Catskill Mountains, near Woodstock, NY. He comes from a family of music lovers, audiopliles, Dead Heads and avid concert goers.The musical magic that can only be created in the Catsklills, both past and present, is what Brian cosiders the epicenter of his music addiction. The music of The Band, and most recently The Levon Helm Band, is the soundtrack of home for him. Brian's mother took him to his first concert at 5years old...it was Johnny Cash and Roseanne Cash at Jones Beach Amphitheatre. For Brian, music is a family affair. He feels the same way about live music...we all convene to celebrate together. Brian's writing life started when he wrote his favorite author, southern fiction writer Clyde Edgerton, a fan letter at age 13. When most kids were idolizing baseball players and television, he was worshipping writers and musicians. The two became friends and Clyde shared his craft with Brian. The next year Brian attended Duke University's Young Writers Camp. This is the extent, of what Brian considers, his "formal" training in writing. From then on his goal was to capture snapshots of life through words. Brian has been involved with live music in various facets over the years, and combined with his enthusiasm and love for Denver's music scene, he creates a vivid description of what he sees and hears. If you see him out at a show, dancing with a notebook in hand, say hello.