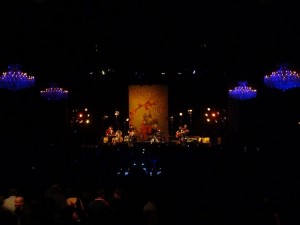 Photo by Tim Dwenger
The Scene: Despite a smattering of 30 somethings who caught onto Zeppelin in the 80's and remember Plant from albums such as Manic Nirvana, it was a decidedly Baby Boomer crowd at The Fillmore on Wednesday night.  People were generally respectful of other's space, and aside from one guy who got carried out through the crowd, everyone seemed to be in complete control and enjoying a calm mid-week night out.
One thing I did notice, the parking situation around the Fillmore was a disaster.  There was no show at the Ogden and I'm not joking when I tell you that every single space within a 5 block radius from the auditorium was taken including most of the no parking zones.  It took me about 20 minutes to find a space I could wedge my little car into.  Lot's of people driving in from the suburbs I guess.
The Opener: North Mississippi Allstars.  When I walked into the room, Luther Dickinson and his brother Cody were up on stage performing as a duo, which suprised me.  One of the things I like so much about North Miss is the full bluesy rock sound that they crank out as a trio with Chris Chew up there on bass with them.   Why there were performing as a duo I'm not sure, but I did read somewhere that Chew was driving the tour bus for The Arcade Fire when they were out at Coachella a few weeks back . . . granted, that was on Wikipedia so I'm not sure whether to believe it or not, but here's the quote straight from the page: "Bassist, Chris Chew ordered wings from Rosati's while driving the bus for Arcade Fire at the 2011 Coachella festival."
The Dickinson brothers did manage to churn out a very delta blues sound despite the fact that their volume was turned down so low it was almost impossible to hear them over the chatting Plant fans waiting for their man to take the stage.  Luther did show off his immense guitar skills, but somehow the whole thing just got lost in the mix and just wasn't very impressive.  Too bad, because I'm guessing Plant's fans would have really taken to a full, balls out, set from the North Miss trio.
Robert Plant: Plant and his band took the stage at about 9:15 and launched right into a watered down version of Black Dog.  I'm going to get this out of the way up front.  Plant's voice is still there . . . no doubt about that, and he still has his trademark swagger on stage, but, with the exception of "Rock and Roll" and "Black Country Woman," the arrangements of the Zeppelin songs in the set came off flat.  That's not to say they were "bad," they just didn't pack the punch that they used to.  Yes, I know that Plant is not out on the road doing a Zeppelin tribute, and that his focus in recent years has been on folk, roots, and bluegrass music, but the arrangements of songs like "Black Dog," "Ramble On," and "Misty Mountain Hop" teased their potential just enough to make it almost awkward when the song didn't take off to that next level.  Maybe if this show had been staged at The Paramount or another theater that had the option of seats it wouldn't have been as noticeable, but given that we were all standing, it would have been nice to let loose a bit.
Now that we have that out of the way, let's focus on the good parts of the evening and fortunately that was just about everything the band played that wasn't from Zeppelin's catalog.   About midway through the set, Plant and the band really hit their stride when they eased into a great rendition of the Richard Thompson tune, "House of Cards" that is featured on Plant's Band of Joy album that was released last year.   While that is a great tune, it was the next four songs that saved this show in my mind.  Plant and Patty Griffin shared vocals on two songs by the Duluth Minnesota slowcore band Low and wow, did this band do them justice with Buddy Miller shredding some amazing guitar solos.  While both "Monkey" and "Silver Rider" (from Low's 2005 album The Great Destroyer) are featured on Band of Joy I'm not sure that Plant has played them in the same show on this tour, and it was quite a treat that he did last night.
Between the two Low tracks, Plant handed the reigns to Buddy Miller who ran through a stellar version of his own "Somewhere Trouble Don't Go" that featured the Zeppelin frontman on Harmonica.  After "Silver Rider" Plant called multi-instrumentalist Darrel Scott to center stage for the single best performance of the evening, a cover of Porter Wagoner's "Satisfied Mind."  With Scott's distinct voice at the center of some of the most powerful five part harmonies I've heard, every eye was glued to the stage and I noticed several mouths agape.  It was simply stunning and nearly worth the price of admission alone.
A little later in the set, after giving Patty Griffin her chance to lead the band, Plant reached back to his 1983 album, The Principle of Moments, for the timeless track "In The Mood," which worked extremely well with this band and was definitely another highlight of the show.
As the show drew to close Plant and the band ran through "Misty Mountain Hop," "Please Read The Letter," and "Ramble On," before leaving the stage for the encore break.  When the band returned, they offered up two songs including a very respectable version of "Rock and Roll" which showed they were capable of "getting the Led out."
Though the show was a bit up and down and really lacked the energy that is necessary to fill a room like The Fillmore, it was great to hear that Plant's pipes are still in fine form after all these years.  Next time maybe he'll leave the watered down Zeppelin songs on the shelf, and focus on the material that he and the band are clearly more passionate about.
Note: Early on in the set, Plant mentioned that he had a lot of history with Denver and that he and his band mates love playing here.  He went on to say that he think's "this room" is a great place to play and made a claim that I have some issue with.  Plant claimed that he had done some calculations down in the dressing room because he "has a touch of OCD," and had figured out that it had been exactly 13,781 days since he first played "this room."  Now, I know that while The Fillmore has only been around since 1999, the building has hosted concerts off and on since 1960 under a variety of different names.  However, it seems that on the date in question Friday August 3rd 1973, the building at the corner of Colfax and Clarkson was closed, and had been since late 1969, and Led Zeppelin, the band Plant was with at the time, was off the road after completing a hugely successful tour of the US during which they played a sold-out show at The Denver Coliseum on May 25th.  I do understand there have been a lot of years, shows, and venues in the interim here but if you are going to make a claim like that, let's hope it holds some water.
Setlist: Black Dog, Carry Me Down to the Sea, Angel Dance, Black Country Woman, House of Cards (Richard Thompson), Monkey (Low), Somewhere Trouble Don't Go – Buddy Miller, Silver Rider (Low), Satisfied Mind (Porter Wagoner) – Darrell Scott, Satan Your Kingdom Must Come Down (Uncle Tupelo), Ocean of Tears – Patty Griffin, In the Mood, Misty Mountain Hop, Please Read the Letter, Ramble on
Encore: Rock and Roll, ???
Energy: C+
Sound: B
Musicianship: A
Stage Presence: B-
Set/Light Show: B-
Overall: B-
Music has always been a part of my life. It probably all started listening to old Grateful Dead, Peter Paul & Mary, and Simon & Garfunkel records that my parents had, but it wasn't long before they were taking me to concerts like Starship, Crosby, Stills & Nash, and Huey Lewis & The News. I got the bug to write about music after reviewing an Eric Clapton concert for a creative writing project in high school but didn't really take it up seriously until 2002. Since then I have published countless articles in The Marquee Magazine and done some work for Jambase.com, SPIN Magazine, and various other outlets. I started Listen Up Denver! as a way to share the music information that is constantly spilling out of my head with people who care. Please enjoy!