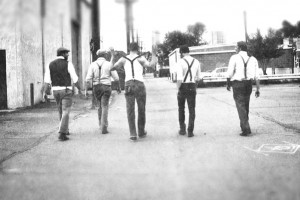 The only thing strange about Strange Americans is the seemingly unanimous love showered on this young band's debut release, A Royal Battle, by critics and music enthusiasts alike. Why is this strange? Well, first of all, because music appeals to individuals in unique ways. A lifetime's worth of experience develops the way we look at the world, who we surround ourselves by and the music that makes us go, "Yeah, that's it. That's what I like." Most of the time we can't identify the specific qualities in a song or band that makes them tug at our musical heart strings, and our tastes may span genres, but there must be some attribute that ties all those songs together. Right?
"Music enthusiasts" are folks who listen to music regularly…whose home would seem empty if speakers weren't pumping sounds, and who are ahead of the curve when it comes to what the next hot thing will be. They are not the unfortunate souls who simply rely on the radio and the water cooler to tell them what is "good," but people who feel the music in their hearts and souls. This is the core group of the folks that are digging what Strange Americans are doing. Two of the most critical elements of great music, no matter the genre or form, are feeling and authenticity and those elements are ingrained in Strange Americans' compositions.  From recording to performance and from lyrical content to musical tone, it's something that can't be faked, and definitely can't be achieved by merely having the right software.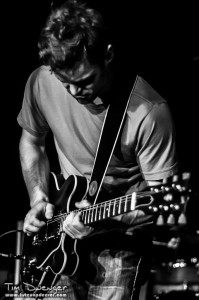 So, since musical taste is so personal, how have Strange Americans managed to charm so many ears in Denver? Well, it all comes back to feeling and authenticity, and that's something Strange Americans have in spades. This band, which formed in 2010, has made all the right moves and recorded a debut album that listens like a much more mature effort
Americana is a term that has made its way into popular music, and one that categorizes wide swath of sounds. "There's a technical aspect to the term; a style, instrumentation that Americana implies. Having Banjo, Mandolin, Harmonica and an appreciation for vocal harmony sort of automatically puts something at least partly in that category," Hoffman said.  "Additionally, there's a sense of honesty, both in the lyrics and the music, that we value.  We're not really trying to be like anyone or anything and are just making the music that feels the most comfortable to us and we feel it is in line with the traditions of Americana.". Listen Up Denver! had a chance to chat with Matt Hoffman from Strange Americans as the band got ready for their big New Year's show at The Hi-Dive, and we got a little insight into what makes their Americana laced sound so appealing.
That Americana tradition has become more sought after by listeners in the past few years.  Perhaps it's a reaction to the cookie-cutter, bubblegum, plastic sounds that are initially shaped in a boardroom and then packaged to sell to consumers, not music enthusiasts.  The advent of the Digital Age has resulted in many music enthusiasts feeling a sense of loss, a longing for the past, and it's clear that Americana is, at least in part, satisfying that craving.  In order to capture that sound, you must have the right tone, and the right gear to achieve that tone.  "Tone is definitely important to us, and that goes for every instrument in the band," Hoffman said.  "We care a lot about our gear, and put great thought into what different tones we utilize to color or texture the songs.  I think the foundation of our sound gravitates more towards a classic vibe, which is a great foundation, but we also really value being innovative at the same time.  We're all very much in tune with expanding those possibilities.  It's the endless pursuit of tone!  An eternal battle…"
That pursuit of tone may shape up to be more like an endless war that lasts for their career as a band but it seems like Strange Americans have already claimed a huge victory with A Royal Battle, that gem of an album everyone seems to want to spend some time with. Dialed in to a warm, full bodied tone, the record pulls the listener in immediately and the lyrics match the authenticity of the Americana tinged sounds.
The band may be a group of six men who each play their own part in the creative process but Hoffman was quick to let us know that the music and lyrics are more and more often being written collectively by the band.  "Regarding the music, it initially started with Trent and myself putting together parts, instrumentation, and song structures and bringing demos to the band but that's changing all the time, especially now that we have a good amount of time spent practicing and playing live."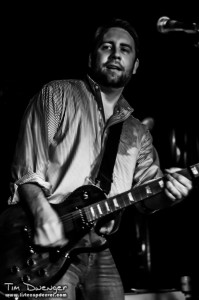 The members of Strange Americans formed the clay that turned into A Royal Battle, and choosing to have their piece fired in producer John Macy's kiln put on a fine finish. Great albums aren't just written, they also require great recording, producing, mixing and mastering. A band could have the best material in the world but if they present it poorly, that first impression may just be their last. Macy is legend in the music world and has worked with powerhouse acts such as Gladys Knight and the Pips, The Nitty Gritty Dirt Band and Los Lobos, has Grammy Award winning albums to his credit, and is a mainstay on Colorado's music scene. The opportunity to work with such an experienced and acclaimed engineer ensured that the rock solid material Strange Americans went into the studio with got cut with precision.
2012 was a great year for Strange Americans, but A Royal Battle was only the first victory in a long war.  Coming straight out of the gate with a killer album launched Strange Americans into orbit but they realize they need to keep great material flowing in order to stay in the game.  "We've got a few songs recorded that will likely be on a release in the next year," Hoffman said.  "We do play some of those tunes out and we also have a bunch of new material taking shape that we're psyched to flesh out very soon.""Working with John was an awesome opportunity for us, especially at this stage in our development," said Hoffman.  "Every day we spent in the studio we were getting the benefit of John's history and experience as an engineer and as a musician, it was really, really cool. He brought a technical perspective, in terms of engineering, ways of capturing sound and so much more, that was fresh for us.  He also obviously brought his years and years of experience as a musician and really knew what to do at each step in the process: a doubled part here, a multi-guy chorus part in the big room here, and so on. It was almost like we were getting a little piece of all the awesome acts he's played or recorded with along the way. The whole process was an amazing learning experience and we're very grateful to John for working with us."
It's clear that this is a band that is well prepared to stay in the trenches and keep gaining ground, and they are barreling into 2013 with a fury.  Hoffman told us the band intends to "Write, record, and release something next year, play a bunch in Colorado but get outside Colorado as well, keep getting better at music, meet new bands and people, listen to new great music and just keep enjoying what we're doing ."
In order to kick things into high gear for the New Year, Strange Americans are headlining The Hi-Dive on New Year's Eve along with The Outfit and FaceMan.
PURCHASE YOUR TICKETS TO STRANGE AMERICANS' NEW YEAR'S SHOW NOW!
Brian Turk grew up in the shadow of the Catskill Mountains, near Woodstock, NY. He comes from a family of music lovers, audiopliles, Dead Heads and avid concert goers.The musical magic that can only be created in the Catsklills, both past and present, is what Brian cosiders the epicenter of his music addiction. The music of The Band, and most recently The Levon Helm Band, is the soundtrack of home for him. Brian's mother took him to his first concert at 5years old...it was Johnny Cash and Roseanne Cash at Jones Beach Amphitheatre. For Brian, music is a family affair. He feels the same way about live music...we all convene to celebrate together. Brian's writing life started when he wrote his favorite author, southern fiction writer Clyde Edgerton, a fan letter at age 13. When most kids were idolizing baseball players and television, he was worshipping writers and musicians. The two became friends and Clyde shared his craft with Brian. The next year Brian attended Duke University's Young Writers Camp. This is the extent, of what Brian considers, his "formal" training in writing. From then on his goal was to capture snapshots of life through words. Brian has been involved with live music in various facets over the years, and combined with his enthusiasm and love for Denver's music scene, he creates a vivid description of what he sees and hears. If you see him out at a show, dancing with a notebook in hand, say hello.