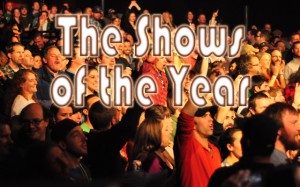 2012 was one hell of a year for music on the Front Range and for us here at Listen Up Denver!  Our team of talented writers and photographers has been working diligently all year to be sure that Listen Up Denver! remains one of Colorado's best music resources and your go-to source for information and reviews of music in, and around, the Mile High City.  Over the course of this year we have covered more than 200 shows between us and published many feature articles.  Fingers have been flying on keyboards and rapidly snapping shutters all over this state as we strive to keep you, our readers, informed about what's going on musically in our state!
Though we have all attended countless shows this year, we've tried to narrow it down to a few choice picks for our "Shows of the Year."   Some of the biggest bands in the world stopped in Colorado this year, but this list proves that we have some exceptional local talent well.  Featured prominently on this list alongside some of the biggest names in the business like Phish, My Morning Jacket, Wilco, Radiohead and Mumford & Sons, are local favorites, The Congress, String Cheese Incident, and EOTO.
Please note the links to our reviews beside these selections (where available) and sit back and enjoy a fascinating look back on some of the best concerts of 2012.  See you all out there in 2013!  Thanks for supporting Listen Up Denver!
Tim Dwenger – Founder & Editor
1. My Morning Jacket – August 5th – Red Rocks (Read Review)
2. Radiohead – March 13th – 1stBank Center (Read Review)
3. Monophonics – July 19th – The Bluebird (Read Review)
4. The Congress – August 15th – The Bluebird
5. Ryan Bingham – September 29th – The Ogden (Read Review)
Brian Turk – Director of Operations
1. Phish – September 1st – Dick's Sporting Goods Park (Read Review)
2. Telluride Blues and Brews – September 14th – 16th – Telluride Town Park (Read Review)
3. The White Buffalo – November 17th – Oskar Blues (Read Review)
4. Grace Potter and The Nocturnals – October 26 – The Fillmore Auditorium (Read Review)
5. Primus 3D – November 2nd – The Fillmore Auditorium (Read Review) 
Karson Brown – Contributor
1. Sleigh Bells – October 23rd – The Boulder Theater (Read Review)
2. Steve Winwood – November 20th – The Paramount (Read Review)
3. Everclear & Eve 6  – November 11th – The Ogden (Read Review)
4. Amos Lee – October 6th – 1stBank Center (Read Review)
5. Charlie Daniels Band – December 7th – The Grizzly Rose (Read Review)
Jon Cass – Contributor
1. My Morning Jacket – August 4th – Red Rocks (Read Review)
2. Mumford & Sons 1st night -Red Rocks
3. String Cheese Incident – July 6th – Red Rocks (Read Review)
4. Bassnectar – June 1st – Red Rocks (Read Review)
5. Lotus – September 8th – Red Rocks (Read Review)
Kit Chalberg – Contributor
BB King / Tedeschi Trucks Band – August 20th – Red Rocks (Read Review)
Brandi Carlile and Gregory Alan Isakov – July 14th – Red Rocks (Read Review)
Martin Sexton – March 29th – The Ogden (Read Review)
The Black Seeds – April 14th – The Fox Theatre
State Radio – November 17th – The Fox Theatre
Johne Edge – Contributor
1. KISS – August 15th – Comfort Dental Amphitheatre (Read Review)
2. Slightly Stoopid – June 2nd – Wakarusa Music Festival, AR (Read Review)
3. The Bastard Suns – April 20th – The Marquis Theater (Read Review)
4. Reverend Horton Heat – January 28th –  The Ogden Theater (Read Review)
5. Public Enemy – December 8th – The Ogden
Charlie Frost – Contributor
1. Andrew W. K. – March 20 – The Bluebird
2. Tom Morello / The Nightwatchman August 12, Outside Lands Festival, San Francisco CA
3. Mayer Hawthorne – October 20 – The Ogden (Read Review)
4. Tenacious D – July 26 – Red Rocks (Read Review)
5. Metric – September 9th – Madison Theater, Covington KY
Kelly Hueseman – Contributor
1. Bonnie Raitt – August 26th – Red Rocks
2. BB King & Tedeschi Trucks Band – August 30th – Red Rocks (Read Review)
3. North Mississippi Allstars – September 15th – The Ogden (Read Review)
4. Wilco – June 23rd – Red Rocks
5. My Morning Jacket – August 4th – Red Rocks (Read Review)
Ty Hyten – Contributor
1. Head and the Heart – May 27th – Sasquatch Music Festival, WA
2. Father John Misty – August 11th – Outside Lands, San Francisco CA
3. Girl Talk – June 23rd – Westword Music Festival (Read Review)
4. These United States – September 13th – The Hi-Dive (Read Review)
5 . Sharon Van Etten – March 28th – The Bluebird (Read Review)
Mitch Kline – Contributor
1. Wilco – June 23rd – Red Rocks
2. My Morning Jacket – August 4th – Red Rocks (Read Review)
3. Mudhoney – January 6th – The Bluebird (Read Review)
4. Atmosphere – January 27th – Red Rocks (Read Review)
5. STS9 – June 16th – Red Rocks (Read Review)
Jim Mimna – Contributor
1. Umphrey's McGee / Railroad Earth September 14th – Red Rocks (Read Review)
2. Anders Osborne – May 18th – The Bluebird (Read Review)
3. Jerry Joseph & The Jackmormons – June 16th – The Bluebird
4. Buddy Guy – September 1st – Botanic Gardens Chatfield (Read Review)
5. Madonna – October 18th – The Pepsi Center (Read Review)
Conor & Patrick Murphy – Contributors
1. Big Gigantic – September 29th – Red Rocks (Read Review)
2. EOTO – December 8th – The Fillmore Auditorium (Read Review)
3. Chris Isaak – December 4th – The Paramount (Read Review)
4. Beats Antique – October 27th – The Fillmore Auditorium (Read Review)
5. Lotus – September 8th – Red Rocks (Read Review)
Todd Radunsky – Contributor
1. Roger Waters – May 17th – The Pepsi Center (Read Review)
2. Neil Young – August 6th – Red Rocks (Read Review)
3. Jack White – August 8th – Red Rocks (Read Review)
4. Jane's Addiction – May 29th – The Fillmore Auditorium (Read Review)
5. Ween – January 2nd – The Fillmore Auditorium
Nate Todd – Contributor
1. Phish – Labor Day Weekend – Dick's Sporting Goods Park (Read Review)
2. Furthur – September 22nd – Red Rocks (Read Review)
3. Medeski Scofield Martin & Wood – December 7th – The Ogden (Read Review)
4. Telluride Blues and Brews – September 14th – 16th – Telluride Town Park (Read Review)
5. Bob Dylan & Mark Knopfler – October 30th – 1stBank Center
Ben Wilson – Contributor
Active Child – May 19th – The Larimer Lounge
Fruition – August 25th – NedFest
Burning Spear – August 25th – Red Rocks (Read Review)
Cornmeal & Hot Buttered Rum – March 3rd – The Ogden (Read Review)
String Cheese Incident – July 10th – Park City, UT