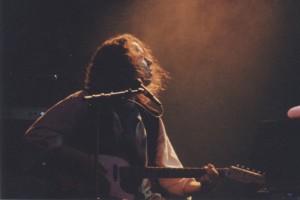 Why You Should Go: After Michael Houser died of Pancreatic Cancer in 2002, Widespread Panic fans doubted if their favorite band would be the same without the reserved axe man sitting on his throne. While Panic has carried on Mikey's legacy wonderfully, they are a different band without the man who inspired their name and defined their sound. For a more intimate approximation of Houser's music, hard-core Panic fans and music lovers alike should find their way down to Cervantes' Otherside on Saturday, January 5th. The tribute will be led by Mikey's longtime guitar tech, Sam Holt, who probably knows Houser's music better than anyone on earth, and the show will also feature local favorites such as Tori Pater, Eric Martinez, and a slew of other great musicians.  Brooklyn-based funk demons, Turkuaz are set to open the night.
Holt's tribute to Houser has found a home here in Denver and has become an annual tradition over the past few years. Whether you're a dedicated Spreadhead who has been seeing Panic for twenty years, a fan who was too young to have gotten the opportunity to see Mikey live, or you just love good ol' gritty Southern Rock, this is a must see show!
Venue: Cervantes' Other Side, 2635 Welton Street, Denver, CO 80205 – 303/297-1772
Doors: 8:00 PM – Show starts at 9:00 PM
*Price: $10.00 Advance – $15.00 DoS
Click Here To Purchase Tickets
*All prices are gathered from other sources and we are not responsible for mistakes or inconsistencies. They are intended only as guidelines. Please, always call the venue if you desire the most accurate information possible.