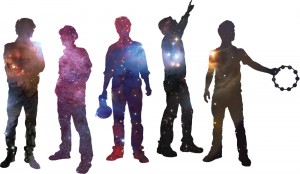 The Scene: I got an email from someone at Twist & Shout back in the first week in December inviting me to a private STS9 in-store show the night before the band kicked-off their three night New Year's run at The Fillmore. Twist & Shout is known for their exclusive and memorable in-store performances, but this one was a going to be a bit different. This show was to be held secretly after the store closed, and for only 45 or so people. The show was a coveted prize won by 22 of the attendees, and the organizers of the contest chose Twist & Shout as the host for the intimate evening . The other lucky guest were employees of the store, and a handful of other folks, including myself.
I want to say just how grateful I am for the invitation, and thank Twist & Shout for thinking of me. I love you Twist & Shout! It's no crush, but a deep admiration that has been stoked by years of flipping through your endless rows of used vinyl, and searching through your CD's to find something to put in the used NAD CD player I also bought at your store which sits below the Denon reciever I…you guessed it…bought at Twist & Shout. Even the Nag Champa that is burning as I write this was bought there. When I have money to blow, I grab a Cortado at the coffee shop inside Tattered Cover (a book store I also have mad love for), and loose myself in the vast expanse dedicated to everything a music lover, well, loves.
Once the store closed, the 22 super fans were given the opportunity to casually chat with the band members and have their pictures taken. The contest winners talked about their favorite albums, memorable show experiences, and just how fucking cool it was to be in one of the best independent record stores in the country, listening to their all time favorite band play acoustic just for them. The cables were axed, the store was well lit, and I saw a side of STS9 I had never seen before.
STS9: After dedicating some quality time to this small group of fans, the members of STS9 walked naked onto the stage. No, they weren't without clothes, they just left some of their normal garb behind. No effects. No gadgets. No doohickies.  No Electronica. No light show. Just 45 fans being whipped into frenzy by a stripped down band.
The short set started off with "Dance," and the enthusiastic crowd, if you could call it a crowd, started to do just that. As people shouted "Dance" at the appropriate time in the song, you could see these 22 folks were having the time of their lives. Sure, the store employees and guests of the store were having a damn good time as well, but the night wasn't about us. It was about those extremely lucky fans who were attending a show that will probably become the one they covet for the rest of their days as one of the coolest STS9 experiences they ever had. The dance led to "From Now On," and the next stop was "Satori." The four song set ended with "4 Year Puma," and a hearty shout-out to Twist & Shout.
The STS9 I heard on Friday night was more Jazz Fusion than Livetronica, and the band played extremely well. I had only seen STS9 once before and that night at The Fillmore was circus of sensory stimulation. The speakers thumped and laser and lights kept your eyes busy as the musicians did their thing while 3,500 peoples faces melted into a puddle of smiles. The stripped down and intimate show allowed me to hear a more organic presentation of their material, and now I see the foundation on which this Temple of Boom is built.
Energy: B+
Musicianship: A
Sound: A
Stage Presence: B
Set/light Show: N/A
Overall: A-

Brian Turk grew up in the shadow of the Catskill Mountains, near Woodstock, NY. He comes from a family of music lovers, audiopliles, Dead Heads and avid concert goers.The musical magic that can only be created in the Catsklills, both past and present, is what Brian cosiders the epicenter of his music addiction. The music of The Band, and most recently The Levon Helm Band, is the soundtrack of home for him. Brian's mother took him to his first concert at 5years old...it was Johnny Cash and Roseanne Cash at Jones Beach Amphitheatre. For Brian, music is a family affair. He feels the same way about live music...we all convene to celebrate together. Brian's writing life started when he wrote his favorite author, southern fiction writer Clyde Edgerton, a fan letter at age 13. When most kids were idolizing baseball players and television, he was worshipping writers and musicians. The two became friends and Clyde shared his craft with Brian. The next year Brian attended Duke University's Young Writers Camp. This is the extent, of what Brian considers, his "formal" training in writing. From then on his goal was to capture snapshots of life through words. Brian has been involved with live music in various facets over the years, and combined with his enthusiasm and love for Denver's music scene, he creates a vivid description of what he sees and hears. If you see him out at a show, dancing with a notebook in hand, say hello.