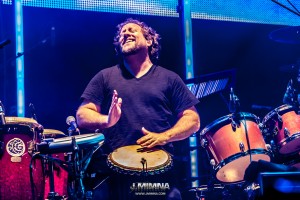 Photos by Jim Mimna
The Scene: Night two of String Cheese Incident's New Year's run found me in a sea of glow sticks, glitter, and costumes at 1stBank Center.  Though I used to be a huge fan of their rootsy, Bluegrass based sound, I have to admit that I've lost my connection with the band over the last decade as they have strayed from their String Band roots.  That said, the pageantry and contagious good times of SCI fans has always been a massive attraction to this band for me.  Everywhere you look is another smiling face – a grinning mob indeed – and that set the mood for a fun evening of music.
String Cheese Incident: The band kicked the show off with the Weather Report classic, "Birdland," (a song far older than the band) and things seemed a bit choppy at first as the band looked around like the lights, or their monitors, weren't performing as they expected them to.   None-the-less, they soon found the groove and took a detour through "Wheel Hoss" that pleased my inner Bluegrass fiend. While the show featured several "newer" tunes, the boys did treat my ears to great selection of classic Cheese with old school love like "Black & White," "Little Hands," "Outside Inside," "Texas," "Rhythm of The Road," and "Joyful Sound."  While "Joyful Sound" featured some of the electronic influences I've shied away from, I have to say that it was my favorite song of the evening.  They had the whole place dancing arm-in-arm.  It was like a hymnal sung by the choir in the church of music as the whole congregation sang along.
Early in a second set chock full of covers, the band busted a killer version of Bob Marley's "Kinky Reggae" and while their take on Adele's "I'll Be Waiting" featured some smooth vocals from Moseley, I think it was lost on many in the crowd as was another cover later on.  The encore portion of the evening kicked off with Travis coming out from behind his kit in a David Lee Roth costume for "Jump."  It was funny, and packed some punch, but I saw lots of folks who aren't Van Halen fans scratching their heads and putting their jackets on.  I don't know, maybe Jamband fans don't tend to like radio tunes like that, but by the time it was over the place had emptied significantly and it was too bad because Nershi raged on a smoking version of "Whiskey Before Breakfast" to close out the show.
Was it my favorite show of 2012?  No.  Did I get to relive some fun moments with a band I hadn't revisited in quite some time? Absolutely!
12/30/2012 1st Bank Center – Broomfield, CO
Set 1: Birdland > Wheel Hoss > Birdland, Rain, Black and White, Little Hands, Can't Wait Another Day, Pack It Up, Outside And Inside, Just One Story
Set 2: Texas > Kinky Reggae > It Is What It Is, I'll Be Waiting*, Rhythm of the Road, This Must Be the Place (Naive Melody), Joyful Sound > Texas
Encore: Jump > Whiskey Before Breakfast
Notes: * First time played (Adele)
Energy: A-
Musicianship: A-
Sound: B+
Stage Presence: A-
Set/light Show: A-
Overall: A-
Capturing life in various forms is what I do. I consider myself an archivist by nature. It is not a career choice that I consciously made, but it is something that has called me. I strive to freeze a moment in time with every frame, a moment that can retell its story with each viewing, forever. I also have a deep passion for music and have been photographing and recording live music for years. Capturing the energy and magic of a live performance in a photograph is one of my passions. In addition, I enjoy photographing in a wide variety of settings, from wildlife scenes to family portraits and everything in between. I am a lover of the earthscapes that we see all around us every day, both natural and manmade, and aim to make unique images that do justice to their beauty. Where others see darkness, I see streaks of light through long exposures. I shoot a very wide variety of subject matter including individual/family portraits, event coverage, landscapes, live concert/performance, HDR, product and commercial photography, architectural, weddings, food, and editorial photo journalism. With artistic expression, I aspire to create visual art that speaks volumes.