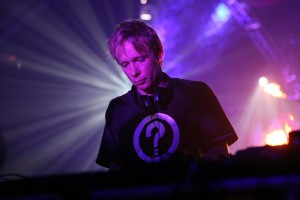 The Scene: Welton Street was abuzz with the impending New Year and the music fans that wanted to see a top notch show but didn't shell out the cash to see STS9, String Cheese or Yonder Mountain.  The place was packed, probably more so than I'd ever seen, which meant the air was filled an amped up version of the usual blend of weed, body odor and malt and barley.  Cervantes' Ballroom has an unusual capacity to be more than just hot, but muggy or even swampy.  The thick air created by all of the willing and waiting bodies was soon to be joined by equally thick grooves pouring out the speakers.
Opener: Ill-Esha. This versatile Canadian based producer, DJ, vocalist and MC brings a myriad of musical talent to the DJ table that you don't often get the chance to witness.  Ill-Esha initially broke into the music world lending vocals to producer's tracks and after a certain level of success she decided to make the leap into producing her own tracks.  Her productions can vary from Glitch-Hop to Break-Beat to Dubstep but no matter the genre, her tracks are almost always accompanied by her sultry voice.  She not only sings loops that seamlessly blend with the thick Drum and Bass notes customary to Dubstep, but she would occasionally switch gears and transform into a full on MC, rapping over the creations that she had just laid out for the people to enjoy.
I would be remiss not to mention that the woman is absolutely gorgeous and could give rock stars like Gwen Stefani and Grace Potter a run for their money. In the musical world we now occupy, with too many EDM performers relying on work they've done behind the scenes, Ill-Esha's style and grace is a shining light on the stage.
Opener: Random Rab. I decided to list Random Rab as an opener, even though he did close-up the late night festivities for the evening after Tipper had torn the house down.  His beyond Down-Tempo Hip-Hop influenced work was a welcome diminuendo for the amped up and feverish audience.  His bass notes move as slow as molasses, giving an auditory sensation that the room is eventually going to overflow with his chosen frequency.  Rab seemed to dovetail nicely with Ill-Esha in that he provided sparse vocals over his isolated melodies.
It is hard to describe the sound or even the man and the closest resemblance I can find would be Beck.  Rab is entirely unique when he sings into the microphone; it is almost like spoken word poetry. The words are nearly incomprehensible in the midst of the slow meandering beats but they do provide some sort of direction to the music. The crowd was awash in the sea of music slowly swaying back and forth. The set went until four in the morning and by the time it was over, I have to admit, I was ready to leave. Random Rab provided the landing gear of the evening and allowed the mass of people to reach their own conclusion of when they would leave rather than the house lights coming on and being shooed out of the door.
Tipper: Dave Tipper is a monolithic name in the EDM scene not only for his enormous range and depth, but also the sheer volume of music he has produced in the last decade. Tipper was at the forefront of the Glitch-Hop scene (some call him the Godfather of Glitch) and has been evolving and responding to the latest trends in music. Tipper is an enigma in my mind; every time I have seen him he doesn't say a word or really acknowledge the crowd at all. He has laser like focus when it comes to his work on stage, giving his live set immense complexity and texture. The crowd at Cervantes was unprecedented; the venue was swollen with heads and the energy before Tipper's set was incredible and tangible. I had butterflies in my stomach, this inexplicable feeling that this set would take me away from my planetary life and send me on an existential journey through the cosmos. The crowd around me enhanced that feeling, it seemed that everyone was expecting something big, knowing that Tipper rarely disappoints.
His sound is so unique it can hardly be described. It moves from what sounds like the murmuring of aliens to popping digital bubbles and shattering glass. The music is so complex live that it can be difficult to get a feel of what is actually going on. It suspends disbelief and, even as a critic, it is overwhelming and transporting. Tipper displays a mastery of sound design and live performance as he creates wobbles, synths patches and beats live and on-the-spot. Most of the songs he played from his new EP Shatterbox were morphed, twisted, and recreated and kept the crowd guessing. Once you thought you had caught on to what he was doing, a new twist in the journey would come leaving you lost again.
The main dance floor was so jammed up with beat freaks that I had to take to the upper level to get the view I was looking for.  This was a fortuitous turn of events, as I was able to see Tipper's turntable work from a bird's eye view and in a way I never had before…or even thought to.  It's obvious from below the stage that he does plenty of live scratching, but from up top it was a wonder to behold.  Rather than take the entirety of a track and scratch or warp it, Tipper taps into his vast library of electric glitches, snaps and guttural bass lines to provide the icing on his auditory concoctions.  His craftsmanship on the tables, along with his ever changing light display (having seen him multiple times, I don't believe I've ever seen the same visual twice), is more than enough to keep all senses entertained.  The imagery displayed on this night was mostly fractal visualizers pumping to the beat, but they also delved into familiar psychedelic infused pop art images (Homer Simpson and Anonymous' famed Guy Fawkes mask to name a few).
With all that being said about the Tipper sound experience, it's an injustice to try and use language to describe his work.  The man who calls his art "a dispersant for my inner madness" creates a sonic environment that, much like his music, is best left to the inhuman and the unspoken.  His show reaches a primal space of the metaphysical and leaves the spectators wide–eyed, fragmented and mentally scrambling to pick up the pieces and decipher "what was that?"  He has created a language all his own, and it speaks loud and clear to anyone who dares step into a room and go toe-to-toe with the master of multi-dimensional sound.
Energy: A
Musicianship: A
Sound: A-
Stage Presence: A-
Set/Light Show: A-
Overall: A