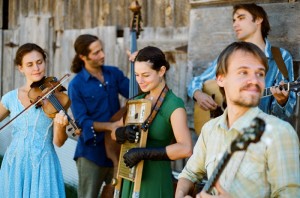 Photo by Anne Stavely 
The Scene: As the end of 2012 quickly approached, a nearly capacity crowd gathered at The Aggie Theatre in Fort Collins for the return of Nederland favorites, Elephant Revival. Although this year's crop of New Year's Eve shows was strong across the Front Range, the Aggie was still packed to the brim with a loving community of local music fans. It was great to step away from the noise and into the calmer musical universe after a wild night at Cervantes' Masterpiece Ballroom the night before [Editor's Note: Read our review of that show here].
Over the course of the night we were treated to thrilling performances from Okie folkadelic newcomers Meandering Orange, local Fort Collins sisters, SHEL and two incredible sets of elegant Gypsy-Grass that only Elephant Revival can provide.  With the lights of 2012 slowly fading behind us, a tightly knit crowd shared a monumental evening of tasty libations and old time Fiddle laced melodies that we will all remember for years to come.
Openers: Due to a long, slow and slightly wobbly walk through the deep freeze of Fort Collins, we arrived at The Aggie right at the beginning of Elephant Revival's set. That said, it was easy to tell that the openers, SHEL and Meandering Orange, had both charged up the crowd as the lower level was already packed full of people beaming with admiration for the two acts. I later discovered that Bonnie Paine from Elephant Revival used to play in the former incarnation of Meandering Orange, My-Tea Kind, and Bonnie's sister Annie remains in Oklahoma with that group. The family connections were amazing at this show, and speaking with the groups after the performance revealed that they were ecstatic to all be celebrating the new year in Colorado together.
Elephant Revival: The crowd let out a massive New Year's roar when Elephant Revival took the Aggie stage for the first time around 10:30. The Nederland mainstays are a unique group in that they all play multiple instruments and there are several different male and female voices that change the mood of the music from song to song.  The five-piece multi instrumental genius of Bonnie Paine, Daniel Rodriquez, Sage Cook, Dango Rose and Bridget Law blend Experimental Folk and Americana into a deliciously silky mixture that eases the mind and transports you back to old time America.  I was especially impressed as they elegantly moved between Bonnie's tender vocal pieces and faster, more stomp-like, bluegrass numbers sometimes transitioning between the two on a dime only to watch the crowd go bananas for several seconds before returning to a normal pace.
They transitioned through the first set with a mixture of new and old tracks including several songs off their recently released EP It's Alive. It's pretty rare you see a washboard player these days and Bonnie Paine is simply one of the best. Her steel clad fingers move with extreme ease and you can tell the whole band really benefits from the sound.
The biggest highlights came in the second set as they returned at exactly 11:50 PM for several more songs to round out 2012 including "Forgiveness" and an incredible rendition of "Old Lang Syne" as the ball dropped on 2012. With the help of several more from the Oklahoma contingent that had showed up in force, the melody boomed around the room and it seemed like everyone was singing joyfully and in unison.  As they blasted into a rousing version of "Jet Lag Blues" off their 2008 debut album, Elephant Revival proved to me that they are a band that's here for the long haul; a collective of equally minded individuals whose focus and dedication to the community will continue to be appreciated no matter where they go next.  To make the night even more special, the second set included a fantastic aerial dance display that was accompanied by a gypsy-like melody from the band. As I stared at awe at this performers, I realized how grateful I was to have been part of this small and focused New Year's celebration. We can only hope the future holds more front-range Elephant Revival shows in the coming year.
Energy: A
Musicianship: A
Sound: A
Stage Prescence: A
Set/Light Show: A-
Overall: A

I've worked various positions in the music industry with Madison House, Rock The Earth and Bohemian Nights. My dream is to travel the world and seek out all the good tunes, beer and food that make life so special. I have a healthy obsession with live music and I'm thrilled to share the epic moments with you.