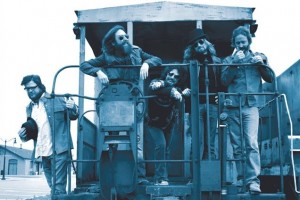 The Scene: There were some "big" shows happening in the Denver/Boulder area on NYE: The String Cheese Incident at 1stBank Center,  STS9 at The Fillmore, Yonder Mountain String Band at The Boulder Theater, The Motet at The Fox, Amon Tobin at City Hall, The Lumineers at The Ogden…but I needed something a bit more mellow. I chose to ring in the New Year with the Chris Robinson Brotherhood at Cervantes' Masterpiece Ballroom, and the show was just as I expected…magically mellow as a mushroom.
While the crowd, like any on NYE, got shitty rather quickly and a few people lost all pride before they even found their way to 2013, it was nowhere near as hectic as my other options for the night. Chris Robinson and his bohemian Brotherhood took us through three sets of CRB, New Earth Mud and even a couple Black Crowes songs, peppering in some covers along the way. I am so glad I picked this show as my last show of 2012 and first show of 2013, and CRB is quickly climbing up the list of my favorite bands because of it.
Chris Robinson Brotherhood: The night started off with a waft of sage coming from the stage, as the area was readied for Robinson. What a hippy this guy is…and that's exactly why I dig him. As someone who loved The Black Crowes' hits, but never delved into them as a real fan, CRB has made me go back and explore Robinson's Rock and Roll repertoire. I still connect most to his newest material, where I taste flavors of some of my favorite bands. The covers Robinson chose for the night showed that his influences overlap with my preferences, melding into a sweet mix of comforting familiarity and something new.
The first set opened with the Bobby Mitchell classic "Try Rock & Roll," which has a Fats Domino "Four Winds Blow" kinda sound, tapping into that early New Orleans Rock and Roll that pleases my ears. Now, I hate to admit it, but every time I hear CRB play "Tomorrow Blues" live, which has been a few times this year, I think they are teasing "Bird Song" by The Grateful Dead. They got me again on NYE and I probably will think the same damn thing next time. That Grateful Dead influence in the sound is probably the most alluring part of their music to me. "Crash on the Levee (Down in the Flood)" covered my love for Bob Dylan, The Band, and their collaborations but when the band played the first notes of "Bertha," I figured, well they aren't going to get me with this one (thinking I was mistakenly hearing The Dead in a CRB song again) but they fleshed it out rocked a great version of the classic. The first set ended with my favorite song played by CRB, original or cover, "Never Been To Spain" by Three Dog Night. When they play that song it almost involuntarily makes me shimmy and smile.
The second set featured the only Crowes songs of the night, and they were well chosen to fit with the CRB material. "Tornado" spun into "Roll Old Jeremiah," which jumped out as the transition from brothers in Crowes to Brotherood. Maybe when Chris was sitting in that cabin in Woodstock, just up the road from Levon Helm Studios where The Black Crowes recorded "Cabin Fever," and working on that song, he really started seeing the direction he wanted to go with his music. The set ended with "Vibration & Light Suite" > "Little Lizzie Mae."
The upbeat "Let's Go, Let's Go, Let's Go" started off the third set, and I could have sworn I heard a few notes of The Grateful Dead's "Jack Straw" in the opening of the CRB original "Star or Stone." We got a coating of New Earth Mud with "Sunday Sound," before dipping into The Dead once again with "West L.A Fadeaway." I got some more Dylan and The Band material with "Tough Mama," which happens to be off of one of the most played pieces of vinyl on my turntable, Planet Waves. CRB closed the set with my favorite CRB original, which just has a great barefoot in the country on a sunny day kind of feel to it, and I could almost feel the grass between my toes as I danced…mellow like a mushroom indeed. The encore of two covers brought it all back to the beginning of Rock and Roll with Elvis' "Blue Suede Shoes" and Slim Harpo's "Got Love."
CRB took us on a psychedelic journey through Robinson's repertoire and influences and that journey could not have happened without the Brotherhood standing behind him. Former Crowes keyboardist Adam McDougal is a maniac on the Moog and anchors the band in Psychedelia while Neal Casal, who played with Ryan Adams and The Cardinals, adds plenty of Rock as well as Country twang and his subtle solos hit the mark every time. He never goes too far, but just plays long enough for it to be considered a "jam."  I like that. The drum stool is manned by George Sluppick, whose work with Robert Walter's 20th Congress and JJ Grey and Mofro brings a bit of hot funky swamp Rock to the mix, but again, subtly. I originally thought the fact that CRB didn't really "get on it" was because they were just getting used to playing together. But now that I have seen them a few times, and have seen the band progress as a unit, I realize it's just the chill nature of the band. CRB is not The Crowes, The Dead, or anyone else…it is a new journey being taken by a group of seasoned musicians, and it is a great trip to take.
Energy: B-
Musicianship: A
Sound: A
Stage Presence: A-
Set/light Show: B
Overall: A-

Brian Turk grew up in the shadow of the Catskill Mountains, near Woodstock, NY. He comes from a family of music lovers, audiopliles, Dead Heads and avid concert goers.The musical magic that can only be created in the Catsklills, both past and present, is what Brian cosiders the epicenter of his music addiction. The music of The Band, and most recently The Levon Helm Band, is the soundtrack of home for him. Brian's mother took him to his first concert at 5years old...it was Johnny Cash and Roseanne Cash at Jones Beach Amphitheatre. For Brian, music is a family affair. He feels the same way about live music...we all convene to celebrate together. Brian's writing life started when he wrote his favorite author, southern fiction writer Clyde Edgerton, a fan letter at age 13. When most kids were idolizing baseball players and television, he was worshipping writers and musicians. The two became friends and Clyde shared his craft with Brian. The next year Brian attended Duke University's Young Writers Camp. This is the extent, of what Brian considers, his "formal" training in writing. From then on his goal was to capture snapshots of life through words. Brian has been involved with live music in various facets over the years, and combined with his enthusiasm and love for Denver's music scene, he creates a vivid description of what he sees and hears. If you see him out at a show, dancing with a notebook in hand, say hello.