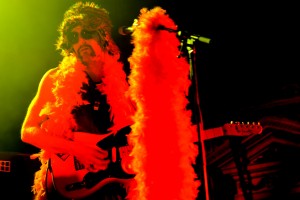 Photos by Johne Edge 
Scene: Airplane bottles of booze flew into the trash can as people tried to get through security, some were given big black "X's," while others were given a wristband to drink.  I stood in line at the Ogden box office on a cold January night waiting to pick up my press credentials.  As I stood there waiting, I remember hoping that the neon from the giant marquee facing Colfax provided a little ambient heat for the girls in line who had left their shirts at home.  Was I ready for Day 2 of BoomBox?
Opener:   Orgone led off their thirteen song opening set with the track "Ronin."  The eight piece's ass shaking percussion, heavy hitting horns, soaring guitar, and keyboards began to fill the dance floor around me.  In Kerouac's novel "On the Road," the orgone accumulator was treated as a type of drug; a stimulant with strong sexual overtones.  This is exactly what the beautiful singer Niki J Crawford is for Orogone the band.  Her sultry voice and stage presence added some vibrant sexuality to the bands energetic Funk and Soul.  Their set ended with a cover of Issac Hayes' "Do Your Thing," and I don't know if anyone could have done it better.
BoomBox: The basic boombox from my youth consisted of an AM/FM receiver, a cassette player, and two speakers, all housed in a plastic or metal case with a handle that made it portable.   The boombox became an integral part of Hip-Hop by artists like Fab Five Freddy, Schooly D, and the Beastie Boys.  Playing Electro-Funk-rock (which is what I would call it if I was forced to try and classify the headliners music), I did not understand BoomBox the band's name…that was until I saw them for the first time.
Even without the handle for portability, every time I see this dynamic duo I take their music with me when I leave the show.  It gets stuck in my head and I find myself singing the songs days later.   Saturday's show would be no exception as they played some fan favorites like "India ," "Tonight," and "Mr. Boogieman."  Their fourteen song set featured a lot of material not on their first two releases.  Enigmatically Zion Godchaux was constantly partially hidden behind his mustache, sunglasses, hat, and the mic stand with a feather boa hanging from it.  The lyrics he sang were as resonating as his guitar playing and Russ Randolph created an organic backbeat mixing drums, keys, and electronic beats from beneath his now trademark Top hat.  With laser lights of all colors slicing through the air, the  crowd never stopped dancing.  As the body heat grew, I found out why the girls from the box office line had left their shirts at home.  Near the end of the show several Colorado residents exercised their Amendment 64 rights as the covered played "Natty Dread."  I think everyone would have kept dancing all night but the evening finally came to an end when the band played "World" as an encore.
Energy: A-
Sound: A
Musicianship: A-
Stage Presence: B
Set/Light Show: A+
Overall: A
Wherever the music is, you'll find me with my camera, shooting on street corners, from barstools at clubs, from the side of the stage at theaters, and from photo pits in places like Red Rocks. Clicking away, trying to capture the emotive essence of music, and all those moments that we forget because of one too many Pabst Blue Ribbons.