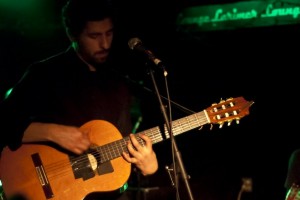 All Photos by Tim Dwenger
The Scene: The crowd that packed the sold out room last night was a good mix of everyone from young hipsters all the way up through some savvy grey hairs who were obviously Jose Gonzalez fans and had made the trek up to the Larimer for the Thursday night show.  With everyone packed tightly into the back room around the stage, it got pretty damn hot but there was some solace if you were willing to move back toward the bar.
The Opener: Acrylics.  Highlighted by the reverb drenched guitar playing of the talented Jason Klauber, Acrylics set was a welcome way to ease into the evening.  Their brooding indie pop was a nearly perfect pairing with Jose Gonzalez's Junip, and they captured the attention of a pretty sizable crowd.  While at moments their sound was almost reminiscent of The Police, they remained true to themselves and showed a maturity in their songwriting that isn't often found in young bands.  Near the end of their set they invited the Conga player from Junip to join them on the title track of their recent Friendly Fire release, Lives and Treasure. This tour with Junip is sure to win them some new fans and have them back in Denver soon doing their own show.
Junip: In almost every way, Junip is exactly what you would expect from a band fronted by Jose Gonzalez.  Their droning sound is punctuated by sharp electronic drum beats and the instantly recognizable sound of Gonzalez's nylon string guitar.  His voice floats ethereally over the top of the music as it surges behind him.
The sold out crowd at the Larimer packed as close to the stage as they could as if his hushed voice wouldn't fill the room and they might miss something.  As soon as Gonzalez appeared on-stage the room exploded into cheers but soon settled as the band dove right into their opener and worked the crowd into an almost trance-like state.  Early in the set Gonzalez and the band ran through the title track to their Black Refuge EP the recently released tune "White Rain" which showcased a gritty side of the band.
Throughout the show, some noticed that the heating vents along the wall were resonating with the bass heavy sound that was pumping through the room and at times it almost seemed intentional as if it was another instrument they were playing together.  At about 11:15 Junip launched into the final song of their 60 minute set, the first track on their Fields album, "In Every Direction" to the delight of the crowd who called them back for an encore after Gonzalez and his band mates had vanished for a minute or two.
The band wrapped up their show with two more tracks from Fields, "Tide" and "Always" and then let us go out into the warm night air awash in a sort of afterglow.  While it wasn't a raucous show by any means, Junip's music is heartfelt and emotional and benefited greatly from the intimacy of the Larimer.    At moments I found myself wishing for a little more variety from song to song, but when all was said and done, they put on the show I was expecting and I went home content.
Energy: B-
Sound: B
Musicianship: A
Stage Presence: B-
Set/Light Show: N/A
Overall: B
Music has always been a part of my life. It probably all started listening to old Grateful Dead, Peter Paul & Mary, and Simon & Garfunkel records that my parents had, but it wasn't long before they were taking me to concerts like Starship, Crosby, Stills & Nash, and Huey Lewis & The News. I got the bug to write about music after reviewing an Eric Clapton concert for a creative writing project in high school but didn't really take it up seriously until 2002. Since then I have published countless articles in The Marquee Magazine and done some work for Jambase.com, SPIN Magazine, and various other outlets. I started Listen Up Denver! as a way to share the music information that is constantly spilling out of my head with people who care. Please enjoy!