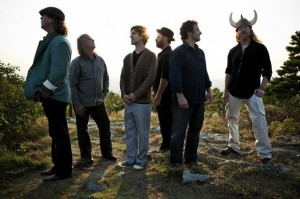 Why You Should Go: Railroad Earth is one of America's greatest bands playing today, plain and simple. They sing of our nation's changing landscape and social ills with a commitment reminiscent of Woody Guthrie, while interpolating instrumental timbres that could have been pulled from Celtic or Cajun culture.  As anyone who has caught them live will attest, their concerts are imbued with the fire-in-the-belly passion of straight-ahead, blue collar rock & roll.
Like their fellow musical travelers, from Bob Dylan and Gram Parsons to Wilco and alt-country chameleon, Ryan Adams, Railroad Earth eagerly embraced change in pursuit of an aesthetic breakthrough. "It was time to do something different," admits lead singer, songwriter and guitarist Todd Sheaffer. He and his band mates—violinist Tim Carbone, mandolin player John Skehan, multi-instrumentalist Andy Goessling, and drummer Carey Harmon, plus new bassist Andrew Altman—have spent nearly a decade refining their sound and modus operandi. This time around they have elected to change up their game in order "to get a fresh perspective." The result is the band's most compelling set to date; encompassing rousing ballads and string-band funk, wistful waltzes and quirky time signature folk. A Railroad Earth show is an experience not to be missed…and with three shows this weekend there is no excuse not to head over to The Ogden and check them out!
Venue: : The Ogden Theatre, 935 E. Colfax Ave Denver, CO 80218 – 303-832-1874
Doors: 7:00 P.M. Show starts at 8:00 P.M.
*Price: Advanced ticket price $30.00. $35.00 DOS
Click Here to Purchase Tickets
*All prices are gathered from other sources and we are not responsible for mistakes or inconsistencies. They are intended only as guidelines. Please, always call the venue if you desire the most accurate information possible.