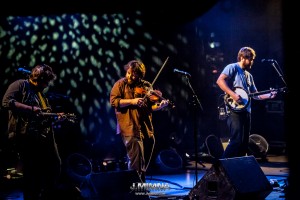 Photos by Jim Mimna
The Scene: What began as a modest line forming alongside The Ogden Theatre an hour before showtime eventually resulted in a packed, sold-out crowd filled with very friendly folks. Thursday's audience was reflective of the evening's music and performances.  There were no gimmicks, subdued fashion taste dominated and calm, fun-loving attitudes were the norm.  This combination resulted in a very relaxing environment full of well-adjusted, mature, down-to-earth music enthusiasts who weren't trying to cause any trouble.
As I talked with a guy standing next to me in line, he told me that he hadn't heard about the show until that very afternoon and came down with his girlfriend on a whim to check out Trampled by Turtles after watching some live performances on YouTube. Before entering the Ogden he added "everyone loves Bluegrass!" With today's Web 2.0 landscape of effortlessly discovering new music coupled with a genre characterized by clean, acoustic technical competency, he made some strong points; it really is a good time for Bluegrass music.
Opener: Honeyhoney.  Honeyhoney did a solid job of taking elements of Folk, Country and Bluegrass and presenting them in a Pop-friendly context. Despite being anchored by strong vocal melodies and mostly traditional song structures, the band allowed themselves to loosen up a bit at times by diverging from the pop formula with improvisation and subtle variations with instrumentation. The highlight of HoneyHoney's set was a performance of their song "Ohio" which shed light upon the band's strengths:  three part vocal harmonies, catchy hooks, and strong guitar/banjo-driven breakdowns.
The set was threatened a bit with banjo feedback and lengthy stretches of guitar tuning but, luckily, the group's charismatic and sexy frontwoman Suzanne Santo shrugged off all technical hiccups by cracking awkward yet charming jokes and testing out mini stand-up routines between songs. By the time they reached the end of their set, Honeyhoney officially broke loose with a closing number that strayed from the tight song structures in favor of a jammy crescendo with solos, loud guitars, an increasingly driving drumbeat, and the celebratory extended final note as the band members said their goodbyes and headed offstage. If Honeyhoney continues to weave the more experimental musical ingredients into their poppy repertoire, they'll likely find themselves with a larger, broader audience over the coming years.
Trampled by Turtles:  With dimmed lights and an ecstatic crowd packed like sardines into the Ogden, Trampled By Turtles kicked of their headlining set with five guys, five instruments, five amplifiers, and five microphones lined up across the stage. The onstage visuals were kept to a tasteful minimum with the musicians occasionally being shown as fuzzy silhouettes with the aid of foggy, colored lighting as various designs like full moons and mountain landscapes were projected on the wall behind them. It quickly became apparent that the focal point of the evening would be the music rather than theatrical onstage gimmicks.
Generally speaking, the band's songs fell into one of three categories. The slower, emotional ballads showcased the ability of the band to wrap the crowd around their fingers with fluctuations in volume. Simple yet sudden crescendos abruptly caught the attention of the audience and prompted cheers from fans as soon as the sound levels were kicked up a few notches. Mid-tempo, upbeat songs had a very comfortable feel and stirred up the dancers around the venue but my personal favorite category included songs that saw the band kicking everything into overdrive. Instruments were strummed furiously, solos were quickly thrown back and forth by all band members, and the pace accelerated to breakneck tempos that would give Slayer a run for their money. The crowd was equally exciting to witness. People were bobbing their heads, stomping their feet in unison (and shaking the balcony in the process), and enthusiastically screaming at the top of their lungs. The experience was nothing short of a full-fledged hootenanny.
Each of the five band members possessed impressive technical abilities on their instruments and it was particularly jaw-dropping to see the group accomplish fast strumming and picking patterns without the help of a drummer as they belted out lush vocal harmonies at the same time (the song "Wait So Long" is a great, well-rounded example of what the band is capable of). Vocalist/guitarist Dave Simonett can easily be seen as the group's frontman, but it was fiddle player Ryan Young who often stole the spotlight. The fiddle solos were always intense and generated roars from the audience every time.
One of my favorite moments from the show came during a performance of "Bloodshot Eyes" from the band's 2010 album Palomino. The harmonica-tinged song immediately fell into its mellow, waltz-like rhythm and the uplifting major chords prompted several groups of people on the floor to throw their arms around their neighbors and sway back and forth enjoying each other's company. As the second verse began with the line "I went to the mountains," the Denver crowd cheered with overwhelming enthusiasm. Witnessing such reactions, along with taking note of the fact that the band had sold-out two consecutive shows in Denver (the only city on their current tour that features two dates), made me truly realize the deservedly strong following that Bluegrass music has in Colorado. In a place like Denver, it's hard to go wrong with nature-themed lyrics, acoustic instruments, and positive vibes. As the band topped off the night with an encore of Radiohead's "Fake Plastic Trees" and The Faces' "Ooh La La," Trampled by Turtles had delivered a fantastic performance that set a high standard for new Bluegrass recruits like me while leaving existing fans thrilled and completely satisfied.
Energy: B+
Musicianship: A
Sound: A-
Stage Presence: A-
Set / Light Show: B+
Overall: A-
As a kid, my parents were always cool. They took me to a Don Henley concert when I was four years old. When I was an angsty teenager, they were fine with me going to a Limp Bizkit concert with my best friend and returning to the house later that night naively smelling like weed. In 2005, the same friend (who, at the time, enjoyed metalcore and wore girl pants) worked at a mom-and-pop guitar store and was randomly offered two Hilary Duff tickets by the store owners. Long story short, I'm not one to argue with free stuff. From the beginning, I've always kept an open mind about live music and attending shows. Concerts often inspire me, regardless of genre. The opportunity to witness the onstage culmination of tireless rehearsing, hard work, and songwriting is always exciting to watch, and it's also important to document. Somehow, I've stumbled into this great gig where I get to write about the fun times I have at live shows and then sharing them with you, the reader. In my spare time, I write/record/produce my own hard rock material, which can be found/heard here: www.sparkmandrill.bandcamp.com