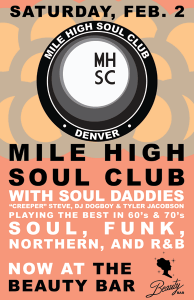 Starting February 2, America's Biggest Monthly Soul Happenin' Fills the First Saturday at Beauty Bar
Started in 2008 at Rock Bar by Lipgloss co-Founder Tyler Jacobson and Rockabilly & Ribs founder DJ DogBoy, Mile High Soul Club has grown to become America's largest monthly soul night. In 2010, MHSC moved to The Meadowlark and introduced "Creeper" Steve as the third resident DJ. MHSC has previously opened for national touring artists such as Lenny Kravitz, Trombone Shorty, JC Brooks & The Uptown Sound, Charles Bradley & Aloe Blacc.
"Apparently we've got so much soul, that even some buildings can't contain us," says Jacobson of the decision to move the legendary monthly party from The Meadowlark in RiNo to Capital Hill's Beauty Bar as of Saturday, February 2, 2013. "With long lines out the door and long lines at the bar inside, it's clear that Mile High Soul Club is ready for a big move." MHSC will not only move to a new home, but they will switch to holding their party on the first Saturday of the month, where previously the party was held on the second Friday. "We had a phenomenal 2012," adds Dogboy. "We've got a lot happening in 2013 to ensure that it's an even better year. The move to Beauty Bar starts this year off on the right note." MHSC resident DJs, billed as "Soul Daddies," Tyler Jacobson, DJ DogBoy and "Creeper" Steve (Cervantes'), promise that even thought the venue and night of the month have changed, they remain uncompromising when it comes to bringing Denver the best in 60's & 70's Soul, Northern, R&B, & Funk sounds.
There is NO COVER for Mile High Soul Club, with Beauty Bar offering $3 PBRs. 21+ ID is required for admission.