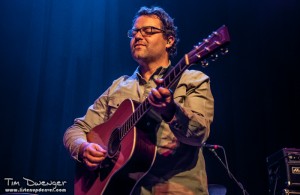 Photos by Tim Dwenger
The Scene: The mood in Denver was a bit mellow after the Broncos disappointing performance in their playoff game earlier in the day and, frankly, the bitter cold weather didn't help warm spirits much.  When we got down to The Summit West Water Outlaws were just about to take the stage and the place was all but deserted.  There were a few folks sitting at the bar and watching the second half of the 49ers Packers game, but overall the room was quiet.  Over the course of the next hour, the room slowly filled in with some die hard Assembly of Dust fans and it was great to see such a huge outpouring of support for these boys from the modest crowd.  They work so hard at what they do and while they aren't a household name, they should be.  I'm just glad that there are people out here in Colorado who recognize how great they are!
Opener: West Water Outlaws.  Rising local band West Water Outlaws kicked off their set promptly at 9 and delivered a 50 minute set of Blues influenced Rock that recalled Led Zeppelin more than a few times.  Powerful original tunes like "Dead Broke" and "Sledgemonster" were early highlights of their set, but it was the slow, smoldering blues of "Things I Meant To Say" that really won me over as their set came to a close.  Watch out for these boys over the next few years; the combination of Blake Rooker's vocals and Will Buck's scorching lead guitar are enough to propel them into the upper echelon of the local scene.
Assembly of Dust: Reid Genauer and Assembly of Dust took the stage at about 10:15 and, as they got situated, the crowd spread out across the dancefloor.  It had been about 3 and half years since I last saw AOD perform live, and I've got to say that I'd been missing their sound recently.  Though there have been some changes in the band over the last couple of years, from the first notes of "Songs We Sing" it was clear that they were comfortable playing together and hitting their stride on stage.  Adam Terrell's lead guitar danced around Genauer's acoustic as bassist John Leccesse laid down a solid low end.
One thing I've always loved about Assembly of Dust (and Strangefolk, Genauer's project before AOD, for that matter) is the way they effortlessly blend Alt-Country with Rock and Roll both in the same set and, from time to time, in the same song.  "Westerly" showcased a little of the Rock and Roll feel while "Paul Henry" slowed things down a bit at first before building to a chorus that got many in the crowd singing along (if they weren't already).  As "Paul Henry" faded away Genauer introduced a relatively new tune called "Arkansas Down" that will be featured on the group's upcoming record Sun Shot.  The song is vintage AOD and has Genauer's masterful songwriting fingerprints all over it as he conjures up vivid images within a vaguely Country Rock framework.  After high energy takes on "Burned Down" and the old Strangefolk gem "Elixir," the group dropped the title track to the new record and got a great response.  I don't think I'm the only one eager for the release of AOD's new record!
One of the first Strangefolk songs I ever heard was "Speculator" and to this day it's one of my favorites, so I was thrilled when the band dusted it off a smokin' ten minute version to close the first set [Editor's Note: Watch it below courtesy of MoBoogie].  Lyrics like "Alcoholic lemonade in ice filled glasses givin' way to the evening" and "By accident I caught a woman getting dressed, she nearly looked away," have always intrigued me because of the incredibly clever way language is used to say so much with so few words.  With each of those lines Genauer paints a picture with 10 or 12 words that many writers couldn't do with pages of prose.  While I'll always marvel at this song for that reason, it is also one of the bands better jam vehicles and on Saturday Jason Crosby stole the spotlight with a riveting keyboard solo that took the song to the next level as the band slowly built behind him.  After a searing guitar solo from Terrell, Genauer took the reins back for the final verse and then let the song slip into setbreak with a line from Neil Young's "Comes A Time:"  "Oh, this old world keeps spinning round.  It's a wonder tall trees ain't layin' down."  To me it's a wonder that Genauer's name is mentioned in the same breath as Neil Young's more often.
As the band disappeared backstage to collect themselves, we slipped out the door forgoing the second stanza in favor of getting my 9 months pregnant wife home to bed.  On paper it looked like another great set of music, but this time I'll have to wait for the tapes to surface to judge for myself.
Setlist:
Set 1: Songs We Sing, Weehawken Ferry, Westerly, Paul Henry, Arkansas Down, Burned Down, Elixir, Sun Shot, Speculator
Set 2: Whistle Clock, Fountain, Lost & Amazed, Songbeard, 40 Reasons, Mama, Harrower
Encore: Bus Driver
Energy: B
Sound: A
Musicianship: A
Stage Presence: B+
Set/Light Show: B
Overall: A-
Music has always been a part of my life. It probably all started listening to old Grateful Dead, Peter Paul & Mary, and Simon & Garfunkel records that my parents had, but it wasn't long before they were taking me to concerts like Starship, Crosby, Stills & Nash, and Huey Lewis & The News. I got the bug to write about music after reviewing an Eric Clapton concert for a creative writing project in high school but didn't really take it up seriously until 2002. Since then I have published countless articles in The Marquee Magazine and done some work for Jambase.com, SPIN Magazine, and various other outlets. I started Listen Up Denver! as a way to share the music information that is constantly spilling out of my head with people who care. Please enjoy!