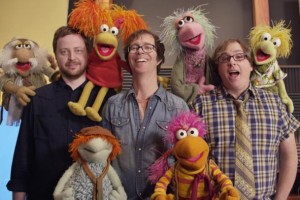 Why You Should Go: This is the first major tour in over a decade for Ben Folds Five. The band amicably parted ways shortly after the 20th Century's end, eager to explore fresh terrain after seven years of intense concentration on the band.  Ben Folds, Darren Jessee, and Robert Sledge first united in 1994, drawing immediate notice for their sardonic smarts, high-energy harmonies and unstoppable melodies. In 1995, the band's self-titled debut was rightfully hailed as a guitar-free pop oasis amid the grungy industrial wasteland that was mid-90s rock. 1997's Whatever And Ever Amen proved to be the trio's popular breakthrough with the landmark single "Brick" fueling worldwide sales in excess of 2 million. Where many bands would've happily stuck to the formula, in 1999 BFF returned with The Unauthorized Biography of Reinhold Messner, an audacious and inventive collection that yielded still another milestone with the timeless "Army."
Now, thirteen years later, the band has released a follow up to Reinhold Messner, The Sound Of The Life Of The Mind.  Armed with a cache of hooks, melodies, and other intriguing ideas, Ben Folds Five embraced a loose improvisational tack, letting nature and inspiration take its course. Songs like "Hold That Thought" or the complex, keys-pounding, "Erase Me" capture the synergistic give and take among the players, a methodology that Folds says is akin to passing "a musical peace pipe."  Although all three members see Ben Folds Five carrying on for the foreseeable future, it would be ill advised to miss this show.  Jessee is currently penning a new cycle of songs, while Sledge is and remains an in-demand session player. For his part, Folds has already penciled in a 2014 symphony orchestra tour, at which point, he notes, Ben Folds Five "turns into a pumpkin."
Venue: The Ogden Theatre, 935 E. Colfax Ave Denver, CO 80218 – 303-832-1874
Doors: 7:00 P.M. Showtime at 8:00 P.M.
*Price: Advance tickets $42.50. Day of show $45.00
Click Here to Purchase Tickets
*All prices are gathered from other sources and we are not responsible for mistakes or inconsistencies. They are intended only as guidelines. Please, always call the venue if you desire the most accurate information possible.