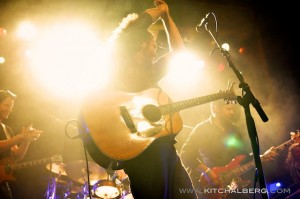 Photos by Kit Chalberg
The Scene: When I was a kid in New York, having your birthday party at Ground Round was about the coolest present your folks could give you. There were cartoons on giant projector screens (which, in the 80's, was kind of a big deal) and endless baskets overflowing with popcorn. I am a bit older now, and what Rob Drabkin does for his birthday these days is way cooler than anything I ever experienced at Ground Round.
For the third year in a row Drabkin put on a birthday concert which united his family, friends and fans at a packed Bluebird Theatre.  There weren't any cartoons on projectors, but there were four vibrant sisters who go by SHEL on the stage before the main event, and Drabkin's mom brought cake. Plus, his dad played sax, and I drank whiskey, so it was pretty damn cool.
SHEL: I have adored what this band is doing since I first heard them opening for Elephant Revival at The Bluebird, and there dramatic presentation captured me. Their sound could only be made by four women with the same blood running through their veins who present four distinct personalities. Not only are theses sisters adorable, they are overflowing with talent. As they weaved through tunes ranging from cute to classically influenced, they put a few hundred more people under their spell. The bubbly "Freckles" was my favorite tune of the set.
Rob Drabkin: First off, Happy (belated) Birthday Mr. Drabkin. The Denver music scene is a vibrant one, and you stand out as a mainstay in it. Thanks for getting out there and doing your thing.
Drabkin can be usually be seen on stages playing by his lonesome, or with a stripped down band since he is of the singer-songwriter class…but on Saturday he brought out the big guns for his birthday bash. Here was the roster: Brian McRae (Drums), "Bijoux" Barbosa (Bass), Eric Moon (Piano, Organ, Cora, and Accordion) Dave Preston (Electric Guitar and Vocals) and special guests Harry Drabkin (Rob's amazingly talented and good vibe tossing father on Tenor Sax), Andre Mali (Trumpet), Darren Kramer (Trombone) and Kim Dawson (Vocals).
Drabkin and crew opened up the night with "Stay Here With You," a song people have had almost five years to bond with, and that connection was obvious. A little later in the set, in true Drabkin fashion, he summoned Paul Simon and pulled off a great rendition of "The Boy In The Bubble" which the loving audience adored.  Not to be overshadowed by the legends, the songwriter also showcased some of his most recent original work with "A Bird Lost" which appears on his Little Steps EP.
Whether Drabkin is singing a song he has penned from the heart, or covering a Paul Simon song, it is evident that his soul is pouring out. After a "Duel" w/ Bijoux, we got some more Simon with "I Know What I Know," and a bit more with "Diamonds On The Soles Of Her Shoes" before the celebration ended with the title track off the Little Steps EP. Drabkin came out for an encore after hearty applause and closed the night in fine fashion with a version of Peter Gabriel's "Solsbury Hill" that brought the house down.
Drabkin's enthusiasm beamed from his face the entire night, and the crowd returned the favor. Birthday or no, this big-haired boy can put on a hell of a show.
Energy: A-
Musicianship: A-
Sound: A
Stage Presence: B+
Set/Light Show: B
Overall: A-
Brian Turk grew up in the shadow of the Catskill Mountains, near Woodstock, NY. He comes from a family of music lovers, audiopliles, Dead Heads and avid concert goers.The musical magic that can only be created in the Catsklills, both past and present, is what Brian cosiders the epicenter of his music addiction. The music of The Band, and most recently The Levon Helm Band, is the soundtrack of home for him. Brian's mother took him to his first concert at 5years old...it was Johnny Cash and Roseanne Cash at Jones Beach Amphitheatre. For Brian, music is a family affair. He feels the same way about live music...we all convene to celebrate together. Brian's writing life started when he wrote his favorite author, southern fiction writer Clyde Edgerton, a fan letter at age 13. When most kids were idolizing baseball players and television, he was worshipping writers and musicians. The two became friends and Clyde shared his craft with Brian. The next year Brian attended Duke University's Young Writers Camp. This is the extent, of what Brian considers, his "formal" training in writing. From then on his goal was to capture snapshots of life through words. Brian has been involved with live music in various facets over the years, and combined with his enthusiasm and love for Denver's music scene, he creates a vivid description of what he sees and hears. If you see him out at a show, dancing with a notebook in hand, say hello.