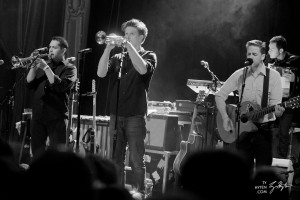 Photos by Ty Hyten 
The Scene: The Bluebird had visitors from the relaxed north and the sizzling south when Bahamas and Calexico came to the crown jewel of the west last week. The sold-out show drew folks who came to get "Lost In The Light" by soaking up the sweetly simple sounds of opener  Bahamas, and those who came to pound "Corona" and get rude and rambunctious in the process. It was an interesting mix of two worlds that did not overlap, but definitely collided on account of the crowded room.
Bahamas: Bahamas hail from Canada, so it's not surprising that some of their music makes you want to live slow and cuddle in front of a fire. Two female vocalists, a strong jawed singer/songwriter on electric guitar and a pensive man behind a drum kit may not fill up a stage, but the sounds they create sure fill up a room. Sadly, the room filled by their sonic goodness was also filled with hundreds of chatting people, but "Never Again" shut them right up. Dead silent most of the set, except for the screams and claps in between songs, the Bahamas fans came to bask in harmonic beauty, and I probably looked like a deer in headlights as they found their way into "Lost in The Light." I will never tire of the song that drew me to this band, nor the soulfulness they bring in such a subtle fashion.
Calexico: From mellow to mahem, once Tucson based Calexico took the stage, the Bluebird turned into a raucous border town. The dark and mysterious "Para" showed the "indie-noir" side of the band, while "Corona" shook up the crowd till they exploded.  Calexico blends Mariachi,  Texas twang and dark Indie Rock into a gazpacho of songs that draws a uniquely diverse fan base.
"Sinner In The Sea" rolled into shore during the encore, and that was when I finally started to pick up what Calexico was putting down. The dark and dramatic Indie side of the band usually isn't my cup of tea, and it just didn't really grab me, but the south of the border swing totally roped me in. At first the combination of genres didn't sit well with me, like a bad burrito if you will, but things settled after a couple of beers.
Energy: A
Musicianship: A
Sound: A
Stage Presence: A-
Set/Light Show: B
Overall: A-
Brian Turk grew up in the shadow of the Catskill Mountains, near Woodstock, NY. He comes from a family of music lovers, audiopliles, Dead Heads and avid concert goers.The musical magic that can only be created in the Catsklills, both past and present, is what Brian cosiders the epicenter of his music addiction. The music of The Band, and most recently The Levon Helm Band, is the soundtrack of home for him. Brian's mother took him to his first concert at 5years old...it was Johnny Cash and Roseanne Cash at Jones Beach Amphitheatre. For Brian, music is a family affair. He feels the same way about live music...we all convene to celebrate together. Brian's writing life started when he wrote his favorite author, southern fiction writer Clyde Edgerton, a fan letter at age 13. When most kids were idolizing baseball players and television, he was worshipping writers and musicians. The two became friends and Clyde shared his craft with Brian. The next year Brian attended Duke University's Young Writers Camp. This is the extent, of what Brian considers, his "formal" training in writing. From then on his goal was to capture snapshots of life through words. Brian has been involved with live music in various facets over the years, and combined with his enthusiasm and love for Denver's music scene, he creates a vivid description of what he sees and hears. If you see him out at a show, dancing with a notebook in hand, say hello.