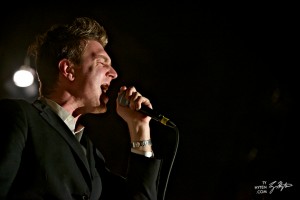 Photos by Ty Hyten 
The Scene: The Ogden Theatre slowly filled in last Monday night for a show a lot of people had been looking forward to for months – two of 2012's best indie rock acts on one bill. As show time neared, a healthy, though not sold-out, crowd of twenty and thirty somethings milled around, drinks in hand ready for a fun close to MLK Day.
Opener: Father John Misty.  I'll be honest, Father John Misty had one of my favorite albums of the past year, and I had already been lucky enough to see him three times, so I knew what I was getting into and I came with high expectations. If you didn't, the handle of Maker's Mark that was brought on stage by a roadie prior to their entrance should have tipped you off to their antics.
Father John Misty's on stage persona is as wide-ranging and absurd as the lyrics on the debut album, Fear Fun. In 2012 I saw him wear many hats – the irreverent drunk opening for Youth Lagoon, a full-blown rock star at Outside Lands, and a mild mannered yet high energy performer at The Bluebird. Monday night we got a hilarious mix of all three that featured Misty speaking with a fake southern drawl and a sassy attitude that cracked up the audience during every moment of down time.
At one point he stopped a song mid-intro to give a heckler in the front row the opportunity to feel like an ass and at another point he asked if the audience had enough time to get their textin' done.  Father John and the band powered through personal favorites like "Hollywood Forever Cemetery Sings" and "Well, You Can Do It Without Me," but the high-water mark came with a fired up performance of "I'm Writing a Novel."
Misty put on a hell of a stage show throughout the set with his strong, smooth vocals and his ridiculous drunk-white-girl dance moves while holding a red cup. He flailed his arms, gyrated his thin hips, and sold his songs with the touch of absurdity they require. While I stood with a stupid grin plastered on my face the crowd ate up the performance, dancing and moving much more than you'd ever expect for an opener.
I'd be remiss if I only mentioned front man Josh Tillman. He surrounds himself with a top-notch group of musicians that seem to have just about as much fun as him. On lead guitar Benji Lysaight absolutely makes the band for me. His twangy Country pickin' was outstanding and interjected a quirky energy into all of the songs, especially on "Tee Pees 1-12." The band closed out the set, just as the album, with "Everyman Needs a Companion" leaving me feeling happier than when I walked in, which is the undeniable mark of a great show.
The Walkmen: The Indie rock veterans rolled into Denver on the heels of a big year. Their newest album, Heaven, was very well-received critically, and another of my favorites of 2012. Sadly, the band started nonchalantly with "We've Been Had" and kept the same low energy going throughout the night with the exception of a few passionate moments from Hamilton Leithauser.
The Walkmen followed FJM's lead and had a bottle of red wine they passed around the stage but perhaps they could have used a few more bottles. The crowd stood oddly still the majority of the evening and the cheers and applause after songs was notably subdued. I'm not sure if this is how it always goes for them or if it was a byproduct of the sound. The entire night was a wash of jangling trebly guitar that was so loud that at no point were any lyrics discernable and most of the other instruments were lost as well. I moved around the venue, and even went up to the balcony looking for a sweet spot but the same awful sound and stationary talkative fans prevailed.
The crowd seemed to remember they were at a concert for brief moments with what were pretty solid versions of "Love Is Luck," "We Can't Be Beat," and an enjoyable "Heaven" following the encore break. The night ended early with "Juveniles" and what seemed like a fairly indifferent crowd slowly made their way out of the venue.
Energy: B-
Musicianship: B
Sound: C-
Stage Presence: B-
Set/Light Show: C
Overall: B-