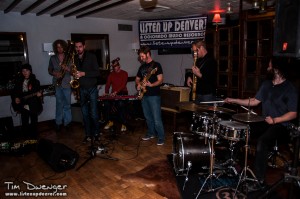 Photo by Tim Dwenger
SoulFax Sessions is Denver's newest free weekly music series featuring members of some of the best young bands in town. Held every Thursday at Park House, SoulFax Sessions brings together a staggering group of talented musicians from some of the most danceable, fun, and up-and-coming bands Denver's vibrant music scene has to offer. Each week will feature a diverse line-up of 3-5 musicians culled from a roster over over 30 local musicians who currently are involved in the project.
We are entering our 4th week of the SoulFax Sessions, and it is already blowing up. Over the past 4 weeks we have had members of Fox Street Allstars, The Congress, Bonfire Dub, Ableminds, Kinetix, Git Some, The Whales, ATOMGA, Whiskey Tango, Nuskool and The Oak Creek Band become part of the action. Listen Up Denver's newest team member Dustin Dow put together a short video so you can see what is jumping off at SoulFax Sessions. The video features Jonathan Huvard (Fox Street Allstars), Chris Speasmaker (Fox Street Allstars), Andrew Lindstrom (Git Some), Nate Todd (Whiskey Tango), Charles Parker Mertens (Ableminds), Mirco Altenbach, Alekzandr Palesh (ATOMGA), Frank Roddy (ATOMGA), Jon Wirtz (Nuskool)and Jaden Carlson.
SoulFax Sessions – January Promo