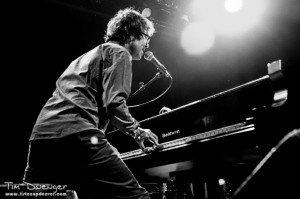 Photos by Tim Dwenger
The Scene: Until Wednesday night, it had been a long time since Ben Folds Five had performed in Denver. As a product of the mid to late 1990s, I figured the band would draw in an audience from the corresponding era largely consisting of 30-something white guys. While I was correct in my assumption, there were also quite a few younger fans waiting outside of The Ogden. As I thought about it more and more, I realized Mr. Folds has been recruiting new fans furiously over the past decade during his time away from his Ben Folds Five bandmates; he was recently featured as a judge on NBC's "The Sing-Off," and he has been releasing great solo albums for most of this millennium.
With the predominance of more niche-based music scenes these days, it feels like an appropriate time for the return of a cult-like band such as Ben Folds Five to release new material and pick up where they left off in 2000.  Many people I ran into, including myself, had seen Ben Folds live without the Five (or more accurately, two) and were about to experience the unadulterated nostalgia they had missed out on during the '90s. Luckily, I found the best seat in the house – a front row spot from behind Ben's Baldwin piano where I'd be able to see his hands pounding away on all 88 keys.
Opener: Nataly Dawn.  Nataly Dawn was an ideal opening act and her laid back approach and tasteful humor had a broad appeal that the audience ate up. In addition to her Regina Spektor-meets-Fiona Apple vocal stylings, Dawn often plucked staccato chords on her acoustic guitar over a light, shuffle-rock rhythm. Her lead guitarist complemented the ensemble nicely with bluesy fills laced with a slight pinch of distortion and grit. Dawn's likable banter was well-timed and included a story about going skydiving with Ben Folds and dry, sarcastic comments about being excited to travel to Utah. As an opening act for Ben Folds Five, the only glaring omission from Nataly Dawn's set was a piano.
Ben Folds Five:  I can't remember the last time I heard a crowd of people erupt into such a loud fit of cheers for three ordinary middle-aged guys walking onto a stage devoid of flashy lighting effects and props. Their hardcore fans were at the Ogden to witness everything that made Ben Folds Five so great:  the short stories of oddball characters, the distinct vocal harmonies, Folds' trademark prowess as a witty improviser and talented pianist, and maybe if they got lucky, an impromptu rendition of "Rock This Bitch." The power trio fulfilled each item on the list and teetered back and forth between old material (which focused heavily upon songs from 1997's Whatever and Ever Amen) and new material from last year's release The Sound of the Life of the Mind. Hearing the old songs was quite a treat, and the performances of the new songs felt like a breath of fresh air in a live setting with the band extending the arrangements to accommodate ad-libbed instrumental breaks. As a result, the audience had an opportunity to enjoy what was familiar to them in addition to witnessing something that had previously been unseen/unheard.
Folds' fans pushed his Denver performance over the edge and made it truly memorable. The audience flawlessly sang along with every wordy verse, belted out every memorable melody (including the horn section break during "Army"), and gave Folds some gifts, including a hand drawn caricature and a Jeopardy-style poster board of song requests. Even better, Folds formally acknowledged everything and was sincerely appreciative of all of it. After looking at some of the requests on the poster board, he went with "Freebird" by playing the first few lines of the Lynyrd Skynyrd classic before trailing off into a tongue-in-cheek, improvised song about not wanting to play the overdone request. As far as other predictable requests, fans were heard yelling "Rock This Bitch!" to the band several times and about halfway through the set, Ben stopped dead in his tracks and granted their wish by slipping into a country/honky-tonk groove with bassist Robert Sledge and drummer Darren Jessee and singing a southern fried number about rocking the bitch and throwing a shout-out to Colorado's recent legalization of marijuana.
The encore was a great old school throwback to a few fan favorites. As soon as the words "I was never cool in school" were spoken, everyone cheered and started dancing and singing along to "Underground," the social outcast anthem from their debut 1995 album. It was followed immediately by my personal favorite, "One Angry Dwarf and 200 Solemn Faces," which features fast, frantic piano licks, Robert Sledge's signature distorted basslines, and Darren's chaotic crash cymbal-heavy drum outro. After Darren threw his drumsticks into the air to end the song, Folds rose from his stool, picked it up, backpedaled a bit with the stool held above his head, and violently threw it at the delicate ivories as he kindly waved to the crowd before leaving the stage. It was a perfect ending to a nostalgic show from a band that many had missed. It's great to have these guys back in action together.
Energy: B+
Musicianship: A
Sound: A
Stage Presence: A
Set / Light Show: C
Overall: A-
As a kid, my parents were always cool. They took me to a Don Henley concert when I was four years old. When I was an angsty teenager, they were fine with me going to a Limp Bizkit concert with my best friend and returning to the house later that night naively smelling like weed. In 2005, the same friend (who, at the time, enjoyed metalcore and wore girl pants) worked at a mom-and-pop guitar store and was randomly offered two Hilary Duff tickets by the store owners. Long story short, I'm not one to argue with free stuff. From the beginning, I've always kept an open mind about live music and attending shows. Concerts often inspire me, regardless of genre. The opportunity to witness the onstage culmination of tireless rehearsing, hard work, and songwriting is always exciting to watch, and it's also important to document. Somehow, I've stumbled into this great gig where I get to write about the fun times I have at live shows and then sharing them with you, the reader. In my spare time, I write/record/produce my own hard rock material, which can be found/heard here: www.sparkmandrill.bandcamp.com