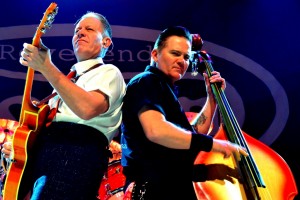 Photos by Johne Edge 
The Scene: This review and pictures almost didn't happen.  At 5:00 in the evening, with the sun going down, I was still in bed from the night before sick to my stomach.  The flu was going around, but this may have been the brown bottle type.  A girl from my neighborhood brought me some alphabet soup, coffee, a swift kick in the ass, and told me to get going.  Fortified with Dayquil and whiskey, wet pavement under my sneakers and the smell of rain in the air, I made my way down to the corner of Colfax and Ogden.
Opener: Reno Divorce. Denver's Reno Divorce got things going around 9:00.  Formed in 2001, the band sounds more like they are straight out of the early '80s punk scene.  Fittingly, a sticker from the East Coast hardcore punk band Reagan Youth adorned the bass players instrument.  Musically quick and fast, literally like a Reno divorce.  The straight forward punk and complex melodies filled the theater floor with people.  After catching their set, I could see why these guys were voted Best Punk band in 2011 and 2012 by Westword.
Reverend Horton Heat: Reverend Horton Heat took the darkened stage at almost 10:30.  As the lights came up, the band played the instrumental "Psychobilly Freakout" to start things off.   Scott Churilla on drums provided the rhythm, while Jimbo Wallace provided the back beat with his masterful stand up slap bass playing.  Jim Heath completed the trio, and played the melodies on a hollow body electric guitar.   Starting with the opening number the band played a song off of each of their albums in order of release date.  From "Pychobilly Freakout" off Smoke 'em if You Got 'em to "Drinking and Smoking Cigarettes" off Laughin & Cryin'.  Nine great songs, off the same number of original albums, got things going.  There wasn't a toe that wasn't tapping, as the band bounced between jingle jangly classic country and high octane rockabilly.  Later they dropped a few covers including Chuck Berry's "Johnny B Goode" and Willie Nelson's "Hello Walls."  Giving a nod to the Amendment 64 State they played the surf guitar tinged "Marijuana" before finishing their set.
For the encore Reverend Horton Heat brought out their tour and merchandise managers to do vocal duties as Jimbo, Scott, and the Rev tore through covers of The Dead Kennedys "Holiday in Cambodia" and "Too Drunk to Fuck."  The room exploded as the audience sang back to the stage, "Went to a party / I danced all night / I drank 16 beers / And I started up a fight."  They finished the night with a rendition of "Big Red Rocket of Love" into Johnny Cash's "Folsom Prison Blues," and back into "Big Red Rocket of Love."  It was an amazing end to an amazing night of music. I'm glad I didn't miss this one, thank God for Dayquil and whiskey.
Energy: A
Musicianship: A
Sound: A
Stage Presence: A
Set/Light Show: B
Overall: A
Wherever the music is, you'll find me with my camera, shooting on street corners, from barstools at clubs, from the side of the stage at theaters, and from photo pits in places like Red Rocks. Clicking away, trying to capture the emotive essence of music, and all those moments that we forget because of one too many Pabst Blue Ribbons.