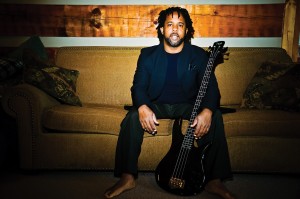 Photo by Steve Parker
Why You Should Go: Because he is one of, if not THE, best bassist in the world. He is an innovator, composer, arranger, lecturer, producer, vocalist, and multi-instrumentalist. He is a skilled naturalist and teacher, a published author, a magician, husband and father of four, and a five-time Grammy award winner. But those gifts only begin to tell the tale of this Tennessee titan.  Victor Wooten, known for his solo recordings and tours, and as a member of the Grammy-winning super group, Béla Fleck & The Flecktones, has won most every major award given to a bass guitarist. He was voted Bassist of the year by Bass Player Magazine three times and is the only person to have won the award more than once.  Wooten is not only a masterful bass player but also a great showman, often times swinging the bass behind his back along with other dazzling tricks.  Whether you are a low end-lover or a music enthusiast in general this is a must see show!
Venue: Cervantes' Masterpiece, 2637 Welton Street, Denver, CO 80205 – 303/297-1772
Doors: Doors: 8:00 pm / Show: 9:00 pm
*Price: $20 Advance / $25 Day Of Show
Click Here to Purchase Tickets
*All prices are gathered from other sources and we are not responsible for mistakes or inconsistencies. They are intended only as guidelines. Please, always call the venue if you desire the most accurate information possible.