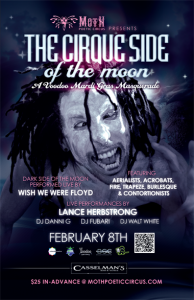 On Friday February 8th, Mardi Gras starts four days early when MOTH Poetic Circus brings you The Cirque Side of the Moon.  This Voodoo Mardi Gras masquerade party has taken nearly a year from inception to fruition.  During that time a concept was developed to celebrate the 40th anniversary of Pink Floyd's Dark Side of the Moon.   MOTH Poetic Circus combines high level circus, dance and athleticism with live music and art.  Aerialists, Chinese Pole performers, acrobats, contortionists, and dancers will accompany Wish We Were Floyd as they play Dark Side of the Moon live in its entirety.  During the entire event the audience will be treated to fire dancing, stilt walking, juggling, acrobatics and all sorts of revelry.
In addition there will be three DJs performing and the featured act Lance Herbstrong.  Lance Herbstrong consists of producers Kimal Soliman and Bill Sarver who blend musical compositions and add their own glitch and bass heavy samples.   Peter Distefano, of Porno for Pyros fame, links everything together with original live guitar work.  The band creates live electronica rock re-imaginings of some of your favorite songs.  Check out the track "Finally Moving" below, this one combine's hometown favorite Pretty Lights with the legendary Jimi Hendrix.  Producer, and sometimes percussionist, Soliman, shared his thoughts with Listen Up Denver! regarding being involved in Cirque Side of the Moon.  "We are always excited to return to Colorado, and to do it in the midst of an art/cirque/music free for all is just the kind of thing we are all about.  We know that this night will be a special one for everyone involved."
Get your tickets now and come join us this Friday, February 8th, at Casselman's and enter into a world of voodoo, a world of circus, a world of music, enchantment, and excess.  Enter into the Electric Voodoo Circus.
Wherever the music is, you'll find me with my camera, shooting on street corners, from barstools at clubs, from the side of the stage at theaters, and from photo pits in places like Red Rocks. Clicking away, trying to capture the emotive essence of music, and all those moments that we forget because of one too many Pabst Blue Ribbons.