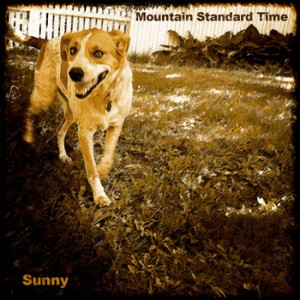 Join Listen Up Denver! and members of Mountain Standard Time at Park House
on Friday night (Feb. 8th from 7-9) for the official Bluebird show pre-party.
The party is free and will feature live bluegrass from Backwoods Galaxy
(and VERY special guests) to get the night started right.
There aren't very many bands that would release a seven track EP for a three-night run, but this is Mountain Standard Time and they are a veritable song machine.  After coming off a year long hiatus and sporting a new lineup including bassist Otis Lande and keyboardist Ryan Ebarb (formerly of Yamn), MST must have been itching to release some new material for their dedicated fans who seem to have sprung back up from the mountainsides from whence they came in even greater numbers than before…and so comes the band's new EP, Sunny.
The opening track "Behind The Bar" sounds as if it was written and recorded there (behind the bar that is) in a strictly organic sense rather than an inebriated one.  With spot on vocal harmonies, the song tells of the archetypal barmaid beauty who is somehow always just out of reach.  While "Behind The Bar" comes out of the gun with a signature Nick Dunbar mandolin melody, the verse and chorus are refreshingly sparse with Stan Sutton perfectly placing tasty guitar licks and Ebarb subtly accentuating the chords on the piano and dropping a refined but rocking organ solo.  If one of the band's criticisms has been that they are too technical, "Behind The Bar" certainly sets the tone for a "less is more" version of MST.
After flying up "Canyon Road," a song that sonically captures a rollicking trip up Boulder Canyon to Nederland, the EP segues into the genre bending instrumental "Fairy Meadows."  With a psychedelic intro that flies into a Celtic tinged melody, the song showcases the inexhaustible soloing of the band highlighted by a bluesy piano break by Ebarb and a jazzy bass solo from Lande.  The beginning of "Katy Anne" picks up the pace again with Zack Scott's furious double time snare shuffle accompanied by Ebarb taking flight on the ivories.  While the lyrics leave a bit to be desired, after bringing the song down with a passionate piano solo and then building it back up with steamy staccato hits, the line "I wish I could slow everything right on down so I could watch the tiny snowflakes before they hit the ground" offers up a poignant moment in which the singer realizes fleeting love.  The strongest lyrics however can be found on track five.
As the name suggests, "No One Sees" hints at alternate perceptions; in love, in life, on the road, and at home.  With great lines like, "Which reality is real? What I dream or what I feel?" and "I wonder around to see what I am shown," and the beautiful contradiction "I've hid my heart for you to see," along with haunting lap steel and organ both provided by Ebarb one can almost see in the music the veils of singular perception being peeled away.  Sutton capitalizes the song with a flawless solo.
MST ends the EP strong with the sprawling "Forgotten For Rotten."  Beginning with quick pickin', intricate chromatic walk-ups, and strong lyrics, the song achieves epic status by breaking down into reggae with dubby drums, a simple but brilliant mandolin line, and ethereal piano chords before ending with a Radioheadesque bass bombs and scorching mandolin harmonies.  At 6:51 "Forgotten For Rotten" is the longest track on the EP, a big exclamation point on Sunny.
If Sunny sounds great, that's because it is, but if you want the full EP you'll have to go to MST's Mardi Grass shows either in Fort Collins at The Aggie on February 7th, The Bluebird in Denver on the 8th or catch the band's hometown show and costume contest at The Fox in Boulder on the 9th.  Don't wait till after the show to pick one up either, as there will be a limited number being sold. Enjoy!

Nate Todd was born on the central plains of Nebraska, but grew up on the high plains of the Texas panhandle. With not much to do in either place, music was his constant companion. His parents dubbed the first two albums he ever owned onto a tape for him. Side A was Bert and Ernie's Sing Along. Side B was Sgt. Peppers. His lifelong love affair with music started early as he practically grew up in a Rock & Roll band, with his father and uncle often taking him out on the road or into the studio with them. Nate began performing live at sixteen and hasn't looked back, having played in numerous bands from L.A. to Austin. At the age of twenty he was bitten by the writing bug, and upon moving to Denver decided to pursue a degree from Metropolitan State University where he recently graduated with a B.A. in English and a minor in Cinema Studies.