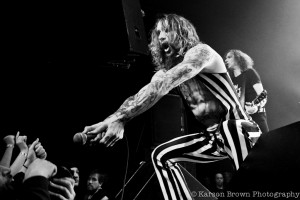 Photos by Karson Brown
The Scene: A rowdy crowd of rockers reliving their youth and a squeakier group in their prime came out last Friday night to party with The Darkness. A perfect mix of devotees in leather jackets, long hair and tattoos lined the barricade near the front of the stage at The Summit Music Hall. I got the impression that the folks in the front knew what I knew; that Denver was in for a treat.
Opener: Hell or Highwater. Hailing from the great state of California, Hell or Highwater came ready to rock our faces off. With tons of hair and attitude – not to mention true talent – they walked on stage not as an opener but as a celebrated group. Lead singer Brandon Saller has the voice of an angel – an angel molded from a dash of Rob Halford and a peppering of Patrick Stump of Fall Out Boy.  I will say he looks a little more like Mr. Halford though – a compliment in my books. Saller, along with Joey Bradford on bass, knew exactly how to get the crowd going by making us sing along. While we didn't exactly know the words, they made us feel like we did and that we were in an arena of 20,000 fans. Hell or Highwater has the unspoiled, clean mix of Heavy Metal, Pop Rock and fun; not to sugary and not too tough. Keep an eye out for this group they are on their way up, but I think that they already know that.
The Darkness: The anticipation was about to kill me. I had seen The Darkness just last year in the very same venue and I gained a certain respect for The Darkness at that performance…I knew that this swarm was in for a jumpsuit filled, rockin' good time.
Lead vocalist and VERY front man Justin Hawkins appeared on stage like a hologram in a striped, barely there, spandex leotard and pirate mustache with his guitar in hand. They kicked the place into blaring gear with a brand new song from their 2012 album Hot Cakes, "Every Inch of You." Justin crushed every high-pitched falsetto note perfectly in this and every other song in the set including "Black Shuck" and the fan favorite "I Believe In A Thing Called Love."
The brothers Hawkins – Justin and Dan – are some of the purest and hardest rocking guitarists' you will find in Pop Rock today. Watching them play is like witnessing a finely oiled machine that is running on a touch of Funk, Blues and whole lot of good-ol' Rock and Roll. They showed off this brotherly talent while playing "Growing On Me," a classic from the 2003 album Permission To Land. Another display of the brotherly love/understanding (considering what Justin was wearing) occurred near the end of the show when Justin leapt onto his brother's shoulders and zigzagged through the crowd playing guitar and then high fiving and shaking hands of adoring fans.
Later in the show, Justin began a candid conversation with the fans; which he did several times throughout the night, asking who was the biggest fan among us. One person revealed a tattoo on her shoulder of The Darkness logo and he was so impressed that he dedicated "How Dare You Call This Love" to her and later clarified that it was dedicated to her but wasn't about her, since the song is about a lady of the night.
The house stayed packed long after the final encore song, "Love On The Rocks With No Ice." It was almost like people were hoping for one more David Lee Roth inspired mid-air split or a monster guitar riff from Justin. The charisma and connection that the entire band had with the pulsating, crowd surfing pack was undeniable and The Darkness seemed to truly appreciate the love that crowd showered on them.
The Darkness is considered by many to be a "glam rock" band which may or may not be true, but it is a term that I can't stand. Yes, they have hair, sometimes sequins or spandex, and outrageous on-stage antics but so did Jimi Hendrix. Not that I'm looking to compare the two elements side by side but "glam" IS rock, the ability to sell it is talent, and The Darkness has it in spades.
Energy: A+
Musicianship: A
Sound: A
Stage Presence: A+
Set/Light Show: B
Overall: A
Karson Brown is Colorado native, local concert photographer and travel photographer. An Art Institute of Colorado gradate, she has a strong background in photography and design. With a passion for nearly all genres of music, Karson has the vision and love for performances which is infused in her written word and photographs. Karson's connection and roots in Colorado keep her grounded and involved in local events and concerts.