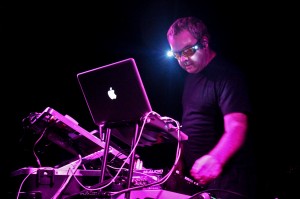 The Scene: The vibe on the street in front of Cervantes' was warm, cheery and full of smiles last Friday night as fans were prepping for some release after the work week.  Excitement was thick in the air as the crowd shuffled under the marquee into the Masterpiece Ballroom.  This was the first test of Denver's hallowed musical grounds for Ott's new live show, and fans packed the house to see what they had in store.
Opener:  Kilowatts. After a little over an hour of warm up acts, Kilowatts took to the stage to display his one man mesh of smooth rhythm and live keyboard work.  Sporting a black tee, thick rimmed glasses and slicked back hair, he dressed the part of a skilled and smooth Jazz musician and had the chops to go with the look.  He began his set with mellow Hip-Hop beats and light synths and worked up to more experimental sounds and rhythms as his set progressed.
The Philadelphia based producer, who has worked alongside bright musical minds such as Bluetech and Tanner Ross, displayed extreme focus and attention to detail on the stage.  I was impressed with both his silky Jazz riffs and with his ability to blend in various keyboard sounds from a Grand Piano to a Wurlitzer.  I was not surprised to later read that he is a classically trained pianist, as his ability on the keys was readily apparent from the dance floor.  His sound was a great transition into the sound of Ott and his band, as it displayed similar musicianship but through the window of a different style of straightforward beats rather than the swinging Dub that was to come.
Ott and the All Seeing I: Hailing from the U.K., Ott is a producer that has steadily made a larger name for himself over the past decade, lending his talents to a wide variety of names including Sinead O'Connor, Brian Eno and Shpongle.  I had seen him before, as a part of Bassnectar's "First Bass Center" event in Broomfield but at that point he was a one man show and displayed his unique blend of Psy-Dub from behind a MIDI controller and computer screen.  I had a blast seeing him then, and thought he had developed a great niche for himself, but he has since made the bold decision to start performing his tracks with a full band.  Many producers seem to shy away from this idea, and seem to relish in the control that running your own show can lend.  Doing so allows you to make sure that every sound is performed exactly how you'd like, but detractors can be found far and wide due to the lack of visible instrumentation and improvisation.
At nearly 2 hours, the set was a steady stream of shuffling Dub rhythms accompanied by stabby guitar and keys.  Ott was, without a doubt, the star of the show.  Wearing combat boots and a kilt, he used his giddy energy and bulging eyes to direct the audience's attention to the panning bleeps and chirps he was creating.  Guitarist and singer Naked Nick switched back and forth between acoustic and electric guitars providing light backing rhythms as his 80's hair metal locks flowed magically as if to give the sense that he was being caressed by a cool breeze.  All the while Ott jammed with his three bandmates on a myriad of instruments, mostly computer driven synths and clips, but he surprised me when he busted out a Melodica (a tiny keyboard that powered by him breathing through an interconnected bendy straw).  Sound a little off the wall?  Well it was, and he is.  You can't help but share in his enthusiasm for music and be driven to dance by his wandering supply of off the cuff dance hooks.  At times he would stack various tones on top of themselves, showcasing serious musical chops through harmonics and twinkly arpeggios, rarely sticking to a single tone.
On tracks like "Owl Stretching Time" and particularly "Daises and Rubies" I could clearly hear the work Ott has done with Shpongle's Simon Posford shine through.  The tracks contained glitched vocals and dreamy soundscapes that came through beautifully live.  He diligently worked the mixer, twisting and warping sounds so they would kiss the utmost lows of the speaker stacks.  When his most readily recognizable tune "Smoking Glass and Chrome" was played as the finale, the crowd sprung to life through the haze of smoke and slow grooves and capped off the night beautifully with a bouncing dance party.  Considering the meticulous construction of his studio-produced tracks, I was more than impressed with the fact that this 4-man crew could so easily bring the songs to life.  I would love to see more of this incorporated into the electronic music world, if only to showcase for an audience how much instrumentation and work can go into one composition.
Energy: B
Musicianship: B+
Sound: B
Stage Presence: B
Set/Light Show: B+
Overall: B