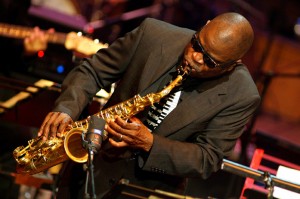 Photo by Ines Kasier
Why You Should Go: Maceo Parker, his name is synonymous with funky music, his pedigree is impeccable, and his band is the tightest little Funk orchestra on earth.  Everyone knows by now that Parker has played with each and every leader of funk.  He started with James Brown, jumped aboard the Mothership with George Clinton, and stretched out in Bootsy's Rubber Band. He's the living, breathing pulse that connects the history of Funk in one golden thread, which is why this show is not to be missed!
"Everything's coming up Maceo," concluded DownBeat Magazine in a 1991 article at the beginning of Maceo Parker's solo career. At the time Maceo was remembered by aficionados of Funk music as sideman appreciated mainly by those in the know. More than two decades later Maceo Parker has been enjoying a blistering solo career building a new Funk empire, fresh and stylistically diverse. He navigates deftly between James Brown's 1960's soul and George Clinton's 1970's freaky funk while exploring mellower jazz and the grooves of Hip-Hop.
Venue: Cervantes' Masterpiece, 2637 Welton Street, Denver, CO 80205 – 303/297-1772
Doors: Doors: 8:00 pm / Show: 9:00 pm
*Price: $25 Adv, $30 DoS
Click Here to Purchase Tickets
*All prices are gathered from other sources and we are not responsible for mistakes or inconsistencies. They are intended only as guidelines. Please, always call the venue if you desire the most accurate information possible.