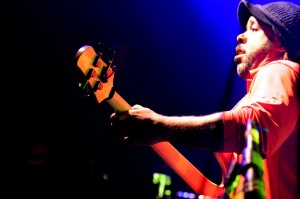 Photos by Johne Edge
The Scene: Wading through a haze of smoke that seemed magnetically drawn to the giant Disco ball looming overhead, I made my way through a sea of funkified males to get to the stage as Garrett Sayers, the Motet's bassist, and the rest of his trio jammed out on R&B and Funk infused instrumentals. As I worked my way to the side of the stage, my photographer was stopped by someone in the crowd.  It ended up being Ricardo Gonzalez, the Chi Town drummer from Lance Herbstrong who had played in town the night before.  Ricardo had come out to support Garret Sayers Trio drummer Jonny Lyemo who it turns out was a former band mate.  Perhaps it was all the smoke in the air, or perhaps as one of the token females at the show I was receiving a different vibe from the crowd than the average attendee, but it seemed like this was a group of people equally as ready to get lost in a hypnotic bass line as they were eager to find a new friend in the person next to them.
Victor Wooten: By the time the Garrett Sayers Trio had finished up their set, the venue had filled up and fans had made their way to the front in anticipation of the headliner Victor Wooten. While the show was advertised as five-time Grammy award-winning bassist Victor Wooten, it was Victor Wooten and his "new band, new sound, new experience" that really brought the show to life. Wooten, as promised to his fans, wowed the audience with dazzling solos.  Though none of us would have been surprised if he had held center stage throughout the set, in less the style of "Victor Wooten: Rolling Stone Top Ten Bassist of All Time," and more "Victor Wooten: naturalist, acrobat, author, and father," he allowed his band to steal a piece of the stage and showcase their skills as well…and that they did.
In particular two performers stood out to me, vocalist Krystal Peterson and drummer JD Blair.  Peterson wowed me with her soulful vocals and honest lyrics and, in one of the highlights of the show, she flawlessly transitioned from a Jackson Five song into Sade without missing a beat.  Using wire brushes Blair gradually freed the beats and moved what had been a Funk heavy show over into the Jazz realm.  The groove that he developed really accented the play of his fellow musicians.  All too soon for me the show came to an end and the house lights came up.  It was time to go, and being a recent transplant to Denver I didn't understand why we were waiting in line to leave.  That's when I came to the realization that the line wasn't to leave, it was a line for Victor Wooten who had posted up near the front door to meet fans and sign autographs.  I think I'm going to like this town.
Energy: A
Musicianship: A+
Sound: A+
Stage Presence: A
Set/Light Show: B
Overall: A
Professional Dabbler. Promoter of Music, art, travel, life. If it's interesting, I'm interested.