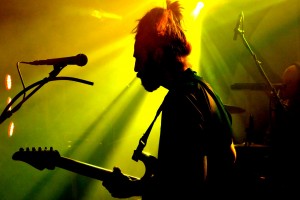 Photos by Johne Edge
The Scene: When I went to The Ogden to catch Galactic the night after YAMN's show at The Bluebird, I saw one of the bartenders who worked the show the night before. When I asked how her night was, she revealed how hung over she was and made the statement, " I got YAMN'd!" I think that statement about sums it up. YAMN doesn't just put on a show, they create an experience and a feeling of regret from partying too hard with them the night before.
I went to the show never have seeing YAMN live, but familiar with their reputation as a "fun" and "high-energy" band with a long standing reputation in the Denver music scene. To be honest, I had no idea what to expect, and I went in thinking they had a funk sound for some reason. Well, it did get funky at times, but these dudes are all about the jam. The diverse crowd reflected the fact that YAMN covers a lot of ground stylistically, but everyone did have one thing in common…we all came to throw down.
The Opener: Bedrockk. The two piece Bedrockk opened the show with their drum and electronic based sounds which got feet moving from the start. A drum kit built layers upon pre-recorded  beats, mostly with snare, rim shot and cymbal snaps. The other half of the duo manned controls to various electronic implements of construction, a guitar and a microphone. The vocals and vibe were similar to BoomBox, and their set was a perfect way to start the party.
YAMN: YAMN can best be described as Jam-Rock, but the best way to convey what they do is to call them a "party band"…and they are probably one of Denver's best. I am not suggesting they play backyard barbeques or cover songs at weddings, but that they simply instigate their audience to get down. YAMN does this by making sure their live show is far from predictable as it spans genres and brings it all together during spaced out jams. No matter what kind of music you dig, you will find something you like in a YAMN set.
The first set started with a YAMN original, "Steam," and the light show established itself as the fifth member of the band. After realizing they weren't a funk band, I also realized their was really no way to classify them. These guys are simply all over the map. The first set not only contained trance inducing originals, but a couple interesting covers they absolutely crushed. The first being Led Zeppelin's "Nobody's Fault But Mine." They tore through that song with a vengeance, and did it some justice for sure. Now I love me some Zeppelin, but since I grew up in New York, their choice of Billy Joel's "We Didn't Start the Fire" as a set closer is what really created a spark. I probably hadn't heard that song since 1991,  but I obviously listened to my Storm Front tape enough to permanently burn the lyrics in my brain, because I remembered every damn word.
YAMN recently returned from a year long break from performing, and they started off the second set with some new material. "Erhalten Es," which means "getting it" in German, showed that YAMN didn't lose any ground during their breather. Denver is a town that loves to hear bands who improvise during their live performances, whether its a more jam band type noodling, or an explosion of livetronica fusion, crowds want the songs to build and boom. It's rare that you can get both of those vibes in one show, but YAMN defines themselves by being able to flawlessly execute both.
YAMN had already satisfied the New Yorker in me by playing Billy Joel, and the second set supplied a cover from the soundtrack of one of my favorite films. Almost Famous depicts a life most of us could only dream of living, and their cover of Stillwater's "Love Comes and Goes" had me wondering if the band looked at me as  "the enemy."
YAMN, at it's core, is a rock band rooted in psychedelic jams, and their originals sound like they were created during vision quests in the desert. Trippy if you will. The diversity of the material kept the whole night fresh, and the intensity of performance proved that YAMN is back in a big way.
Energy: A-
Musicianship: B+
Sound: B+
Stage Presence: B+
Set/Light Show: A-
Overall: B+
Brian Turk grew up in the shadow of the Catskill Mountains, near Woodstock, NY. He comes from a family of music lovers, audiopliles, Dead Heads and avid concert goers.The musical magic that can only be created in the Catsklills, both past and present, is what Brian cosiders the epicenter of his music addiction. The music of The Band, and most recently The Levon Helm Band, is the soundtrack of home for him. Brian's mother took him to his first concert at 5years old...it was Johnny Cash and Roseanne Cash at Jones Beach Amphitheatre. For Brian, music is a family affair. He feels the same way about live music...we all convene to celebrate together. Brian's writing life started when he wrote his favorite author, southern fiction writer Clyde Edgerton, a fan letter at age 13. When most kids were idolizing baseball players and television, he was worshipping writers and musicians. The two became friends and Clyde shared his craft with Brian. The next year Brian attended Duke University's Young Writers Camp. This is the extent, of what Brian considers, his "formal" training in writing. From then on his goal was to capture snapshots of life through words. Brian has been involved with live music in various facets over the years, and combined with his enthusiasm and love for Denver's music scene, he creates a vivid description of what he sees and hears. If you see him out at a show, dancing with a notebook in hand, say hello.